Breaking News
General News
News & Trending
Ken Kuranchie crash-landed in court…As Supreme Court dismisses his application challenging eligibility of former President Mahama to contest 2024 elections, asked to submit to practical legal training
Ken Kuranchie crash-landed in court…As Supreme Court dismisses his application challenging eligibility of former President Mahama to contest 2024 elections, asked to submit to practical legal training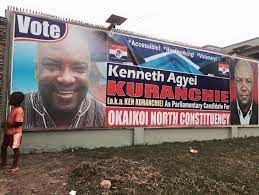 The Supreme Court has dismissed an application filed by a former New Patriotic Party (NPP) 2020 Parliamentary hopeful for Okaikoi North Constituency in the Greater Accra and Editor-in-Chief of the Daily Searchlight newspaper, Mr. Ken Kuranchie challenging the eligibility of John Dramani Mahama to contest the 2024 Presidential election.
The court said the application was procedurally defective and incapable of invoking its jurisdiction. The statement of the case was filed out of time.
The Court advised Mr. Kuranchie to properly study the legal profession. It was the case of Mr. Kuranchie that per the Constitution the only person entitled to a second presidential term must be a sitting President.
He contended that a former President is not qualified to seek re-election as President of the country.
The suit which was filed last June, had the Attorney General, Former President John Agyekum Kufuor, and the Speaker of Parliament as other respondents. Counsel for the Respondents urged the court to strike out the case because the applicant failed to comply with court rules.
Speaking after the court proceedings, Mr Kuranchie said he still believes he has a valid case so he will refile the application in December.
Director of Legal Affairs of the NDC, Edudzi Tamakloe, said the application was mischievous.
Story: Inghananewstoday.com