News & Trending
Top stories
Wash
Mole XXXIV WASH Conference opens in Jirapa with a call on stakeholders to strengthen WASH M&E Systems
Mole XXXIV WASH Conference opens in Jirapa with a call on stakeholders to strengthen WASH M&E Systems
The 34th  edition of the MOLE Conference series is currently underway at the plush Royal Cosy Hills and Safari Resort at Jirapa in the Upper West Region with a call on stakeholders in the Water, Sanitation, and Hygiene (WASH) sector to strengthen WASH Monitoring and Evaluation (M&E) Systems.
The 34th MOLE Conference theme speaker, the Director Institute for Oil and Gas Study, Department of Geography and Regional Planning, University of Cape Coast, Prof Simon Adinkrah Mariwah, addressing participants at the open ceremony, insisted that there is an urgent need for M&E plans and associated investments for all Metropolitan, Municipal, and Districts Assemblies (MMDAs).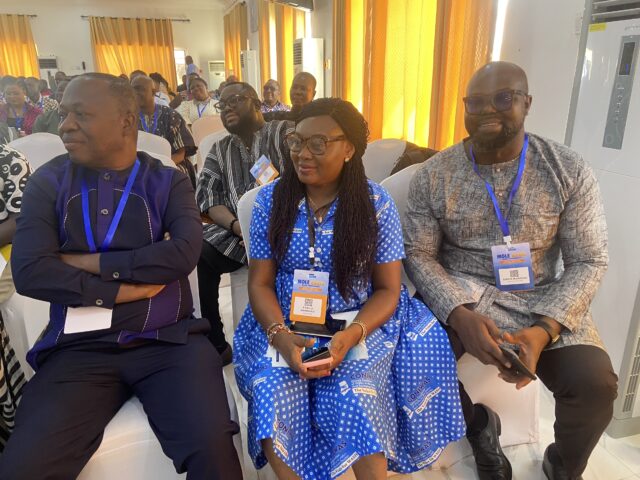 This year's edition of the MOLE Conference series is on the theme; "Building Inclusive and Resilient Water, Sanitation and Hygiene (WASH) systems to reach the unserved".
Prof. Mariwah intimated that sustaining functionality and service levels of WASH systems requires effective monitoring and evaluation as well as knowledge and skills in data management.
According to him, Ghana has some wonderful existing systems such as BaSIS, DiMES, ESICAPP, and ESICOME etc. However, weak infrastructure and Human Resource (HR) capacity are rendering the systems ineffective. Thus the an urgent need to accelerate the roll-out of the Sector Information System (SIS) as well as to build and strengthen WASH systems at the MMDAs level.
Prof. Mariwah, admonished participants to ponder over the following questions while thinking of solutions to solve the numerous challenges facing the sector.
Key questions for consideration
How can WASH policies, plans, and strategies be made more effective leading to a steep change in the WASH sector, addressing inequities, and covering the unserved so we can accelerate to 2030 and beyond?

How can the building blocks in system strengthening be made more functional address inequities, and promote innovative service delivery so that it can reach the underserved and unserved populace?

How can stakeholders accelerate the roll-out of a robust and credible sector information management system and a strong learning culture to accelerate innovative service delivery to ensure underserved and unserved are covered with sustainable WASH?

What more is needed in our sector reforms to ensure that WASH gains/achievements last and have the best chance of reaching everyone?

What is required to ensure Government accountability such as making simple, realistic, and concrete commitments at continental and global levels and to ensure these are fulfilled?
And last but not least are the opportunities and innovative approaches sector players can explore to achieve universal access incrementally in hard-to-reach geographic locations?
On his part, the Chairman for the occasion, Naa Pagranege Sakoe Mornah III, Chief of Sankana in his acceptance speech, thanked the organisers for choosing the Upper West Region, specifically Jirapa to host the 34th edition for the first time in the history of the MOLE Conference series.
The Chief of Sankana called on the coalition members to use the various platforms to help address WASH challenges faced by vulnerable communities across the country.
"The focus of discussion I am aware will include systems, approaches, and models of resilient WASH Service delivery.
Hon. Ministers, Fellow Participants, on this note, as I accept to chair this all-important conference, I would like to use this opportunity to urge all participants to participate fully in achieving the goal of the conference as it seeks to come out with practical and actionable recommendations for accelerating access to sustainable Wash services," he added.
Story: Kwakwo BUABENG