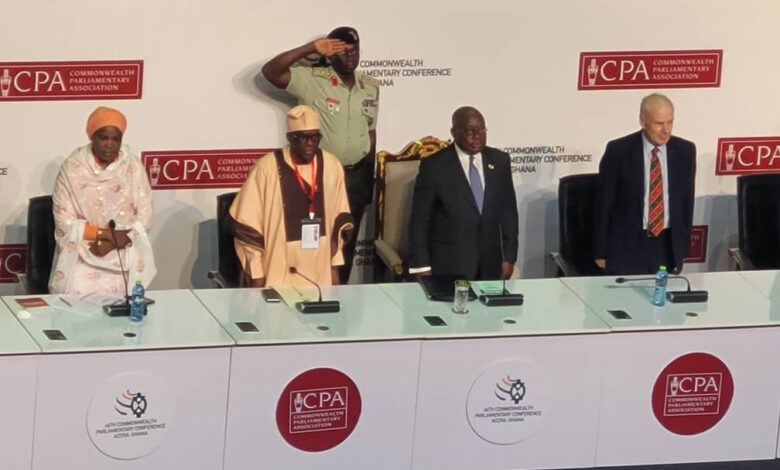 The gathering of delegations from Parliamentarians from the Commonwealth to observe its 66th conference began on September 30, 2023, with different lined-up activities to mark the largest gathering of legislators.
The opening of the conference took place on October 4, 2023, in Accra, with the President of the Republic of Ghana, Nana Addo Dankwa Akufo-Addo, officially opening it with his keynote and welcome address.
The conference will end on October 5, 2023, with more than 500 parliamentarians, parliamentary staff, and decision-makers from across the commonwealth discussing issues facing the globe and member countries and also forging plans that will see to the solution of such critical issues.
In a welcome address, the Majority Leader of Ghana's Parliament, who doubles as the Member of Parliament for Suame and also the Vice Chairperson of the Commonwealth Parliamentary Association, Osei Kyei Mensah Bonsu, welcomed participants to Ghana and entreated them to seize the opportunity of the conference to experience the great tourism atmosphere that Ghana possesses.
"For those who are yet to explore the numerous tourist attractions in Ghana, I would like to encourage you to do so. Our country, Ghana, is watched with several tourist attractions, from the historic castles in Cape Coast and Elmina and vibrant markets in Kumasi to the lush rainforest of Kakum National Park," he said.
The Speaker of the Ghanaian Parliament and President of the Commonwealth Parliamentary Association, Rt. Hon. Alban Bagbin, also entreated participants of the conference to contribute their quota in ensuring that the mandate of the CPA and the people they represent in their various countries are all achieved.
In an address to officially open the conference, President Akufo-Addo charged members of the CPA to contribute effortlessly in their resolve to the myriad of grave issues heckling the necks of global citizens, which include environmental, financial, and security.
According to him, these issues are currently having negative impacts on the lives of people in the world, especially those in developing countries. He also charged members of the commonwealth to uphold the principles of the charter of the commonwealth to attain the protection of human rights and the observance of the rule of law.
"We, therefore, have the honorous responsibility as members of the commonwealth to translate these principles into tangible and measurable outcomes to guarantee human security," he said.
Story: Kwadwo BUABENG