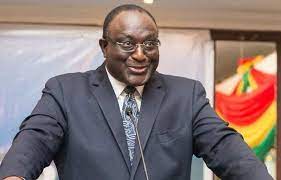 I was born, bred, baptized, and confirmed as a Presbyterian, but thanks to Achimota School, the Military, and Accra Ridge Church, I am perfectly at home with any form of religious worship.
And so one of my closest friends today is a certain Charismatic Bishop, Tom, who burst into my office screaming: *"But Captain, what ill omen symbol has Alan chosen?"*
*I first met John Kwadwo Alan Kyerematen in 1971 when I was in Form Five, Achimota School, and he came from Adisadel to Sixth Form, elder brother of my classmate Frimpong Mensah.*
From Achimota I never heard of him again until in the year 2000 when, as an aspiring parliamentary candidate for Berekum on the New Patriotic Party (NPP) ticket I started hearing of him in party circles.
*President J.A. Kufuor gave him a very juicy appointment as Ghana's Ambassador to the USA, and in his second term Kufuor made Alan his Minister of Trade and Industry.*
*During the run up to the 2007 presidential primary in the NPP, it was an open secret that President Kufuor was the principal backbone of John Alan Kwadwo Kyerematen, giving him the highly strategic accolade – ALAN CASH – the money man, splashing cash to the delegates.*
I was one of the 17 aspirants for the NPP flagbearer and I well remember on my rounds I went to Wa, the Upper West Regional capital.
I was told that on the previous day, one aspirant was in town speaking to NPP delegates when news flashed that Alan Cash had arrived in Wa with an aeroplane, and, reader, within minutes the money-hungry NPP delegates had all abandoned the cash-strapped aspirant to welcome Alan Cash at the airport.
*An extremely very sad and embarrassing incident took place in the Upper East Region.*
*A District Chief Executive's (DCE's) mother died, and two days before the funeral he was removed on radio, for the simple reason that he was a known supporter of Nana Akufo-Addo instead of John Alan Kyerematen.*
On the D-Day, when the primary took place at Legon, on 29th December 2007, Nana Addo won narrowly, and the question was that will Alan compromise or force through a run off?
I was there, and I saw Alan with a big man-sized handkerchief as he voluntarily, for the sake of the party, threw in the towel for Nana Addo to go.
*To all and sundry he automatically became the next in line to take the flagbearer position after Nana Addo.*
*But, hang on, what is this?*
In less than two weeks after Legon, news broke out that he who voluntarily resigned from a run-off at Legon had now resigned from the party to form his own party oh?
Again, less than a month later, he allowed himself to be talked to; he changed his mind, beat a hasty retreat, and rejoined the party, of which he is a Founding Member.
We lost in 2008 and in 2012, and in 2016 Alan made it clear to all and sundry that after Nana Addo he was the next in line.
In 2017, Nana Addo became President and kept Alan throughout as Minister of Trade and Industry.
According to the NPP mantra of next in line, *"Aduru wo so".* Alan set out, after resigning as Minister, to campaign for the NPP flagbearer.
His very first campaign move was to pay a courtesy call on Otumfuo, the Asantehene – and several principal paramount chiefs in Ghana – as if he were president already!
*According to the Akans, "Akonwa tɔ a Ɔdehyeɛ biara pere bi"* (When a stool becomes vacant, every royal can campaign for the stool) who told you that *"aduru wo so?" That you are next in line?*
As many as 10 other aspirants filed their papers, two of them being very worrisome challengers – the incumbent Vice President with underground support from officialdom – (just like he enjoyed in 2007), and the latest kid on the block, grassroots popular rubble rouser, Kennedy Ohene Agyapong, Assin Central MP.
*He polled a poor third,* overtaken by Kennedy, and one week later, he chickened out from the upcoming November 4 showdown among the top five. Whither John Alan Kyerematen?
*Pundits, including me, had a field day with predictions – Alan will form his own political party, no, he will run as an Independent, no, he will force Vice Pee to appoint him as his running mate, no, he will partner Kennedy Ohene Agyapong…….no, no, no, you are all wrong…….Alan is going to be the Vice Pee to John Mahama!!!!!*
Finally – Monday 25th September, Alan announced that he will contest the 2024 General Elections as an Independent Candidate, leading a *"Movement for Change"* with the Butterfly as his symbol.
My senior in Achimota School is wrong, very wrong.
*First of all, his symbol is fatally WRONG.* According to the Bishop who visited me, the life span of a butterfly is only *"two weeks – extremely very transient, signaling that his whole effort is a fairy tale will not last long, will vaporize within days."*
*Secondly, my senior ought to know one fundamental law in politics – without an oligarchy, there cannot be a statesman– you need to have a political force, a well defined cause – not a loner – you will never make it.*
*Again my senior did NOT nurture his base, he did not use his glorious post 2007 advantage for his gain – how many funerals, even in Asante region – did he attend?* *Where was the face of Alan at notable NPP events throughout the country all these years?*
The records say that when he began his campaign, *he went to Western North, at Sefwi Wiawso, and one NPP executive member speaking from the floor asked him a question that why is it that all these years "we never see you except when it is time for you to contest Flagbearer position?"*
They say the man was so embarrassed that he avoided *"question time"* from that time onwards.
*In my view, if my senior John Alan Kwadwo Kyerematen wants to be President of Ghana at all costs before he dies then he should do a major very serious rethinking of his strategies.*
*For now the road ahead looks very bumpy.*
*Infantry Army officers will say, the ground is "undulating".*
Article by: Nkrabeah Effah-Dartey