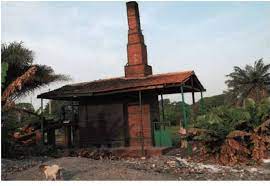 Some stakeholders in the waste management sector have expressed environmental concerns about the use of waste incinerators as an alternative for waste management in the country.
According to them the country should take steps to reduce the amount of waste generated and warned that incineration could increase greenhouse emissions while "fluid gases" could cause health problems.
The stakeholders made the call at a media conference on incineration and waste pollution in Accra spearheaded by the Green Africa Youth Organisation (GAYO).
Incineration is the process of burning hazardous materials at temperatures high enough to destroy contaminants.
Incineration is conducted in an "incinerator," which is a type of furnace designed for burning hazardous materials in a combustion chamber.
Among the materials that can be treated by incineration are soil, sludge, liquids, and gases.
Countries are resorting to diverse scientific methods to reduce waste and recycling to help tackle the twin crises of climate change and biodiversity.
Mr. Victor Kotey, Deputy Head of the Waste Management Department, Accra Metropolitan Assembly,  said managing waste by incineration is an expensive option for the country amid limited resources.
"Incineration is not a good option. The waste we generate in Ghana is over 60 percent organic and the moisture content is over 40 percent and which makes it a bad incident for incineration.
"In incineration you need heat and if the moisture content is higher you need more fuel to get rid of the moisture before actual combustion will take place," he explained.
Mr. Kotey added: "The environmental impact is very high because it leads to a lot of emissions. You cannot clean the gasses 100 percent, there would still be some amount of fluid gases and that is not good for human health."
Mr Kotey said it was possible for Ghana to ban plastics, but recommended broader stakeholder engagement on the issue to ensure an effective policy formulation and implementation.
Dr. Jacob Dodoo, a lecturer at the University of Environment and Sustainable Development, said although incineration could reduce the volumes of waste, it was not a sustainable approach to managing waste in Africa.
He said policies on waste management should be implemented effectively and the people should also endeavour to reduce waste to support environmental conservation efforts.
Madam Lydia Bamfo, President, of the Informal Waste Workers Association, said instead of the open burning of waste, the services of waste collectors should be well sourced to feed recycling plants.
"One of the main challenges we face is waste segregation. We should train people to do segregation. .. " she said.
Story: Kwadwo BUABENG