News & Trending
Sport
Trending
Ghana, Guinea clash for survival… in TotalEnergies CAF U-23 championships
Ghana, Guinea clash for survival… in TotalEnergies CAF U-23 championships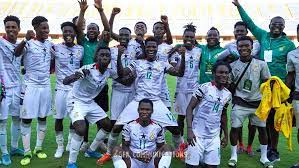 Ghana's U-23 national football team, the Black Meteors find themselves in a dicey situation as far as qualification to the next Olympic Games is concerned.
The Black Meteors' last appear­ance at the multi-sport event was at the 2004 Games held in Athens.
The ongoing TotalEnergies CAF U-23 championships offer a fine platform to stage the expected return to the showpiece of the sport to be staged in France but the performance of the team at the qualifying championship appears to be threatening that ambition.
After a nervy 3-2 win over Congo Brazzaville in their opening Group A encounter, the Black Meteors were whitewashed 5-1 by a rampant Moroccan side to plunge Ghana's qualification hope into doubt.
It left the Meteors in a very difficult state, needing a win at all costs against Guinea today to stay in the championship to pursue their qualification dreams.
The loss secured an immediate knockout stage qualification for the Moroccans from the group, leaving the three other countries to fight for the single slot left.
What has left followers of the team mystified is the team's lack­luster display and lack of potency up front and boasting of what seems the weakest defence in the championship so far.
Faced with this situation, the Black Meteors would need to bounce back strongly when they line up against the Guineans in a win-or-burst encounter, knowing that their qualification to the semi­final stage is hinged on a win.
But that would not come easy as the Guineans also needed the points to make progress
Coach Ibrahim Tanko, under­stands the team's situation more than anyone else and was there­fore on point when he charged the players to redirect their attention towards their final Group A en­counter against Guinea.
"We need to enhance our preparations for the upcoming match against Guinea, where our tournament survival is at stake. Our concentration needs to be sharper," added Tanko, in a post-Morocco match press conference.
"We have two days to prepare for our pivotal group match. Physical recovery is crucial; we had one less day of rest compared to Morocco. While it's not an excuse, our fatigue was evident. We still have an opportunity, and we will seize it," affirmed the coach.
With a few days to recover from the game, the Black Meteors would have to put in their best performance to snatch the three points in order to make the first step toward qualification for France
Story: Franklin ASARE-DONKOH  JR