Breaking News
Education
News & Trending
Trending
6,451 out of 7, 728 teachers fail re-sit licensure exams for the 9th time
6,451 out of 7, 728 teachers fail re-sit licensure exams for the 9th time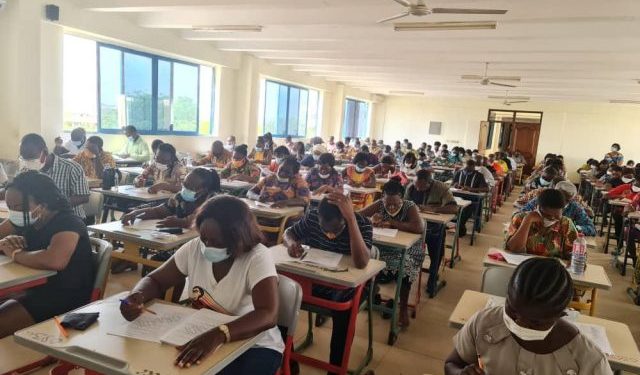 6, 451 out of a total of 7, 728 teachers who re-sit for the 2023 Teacher Licensure Exams conducted by the National Teaching Council (NTC)  in May 2023 failed for the 9th time.
The results were released by the NTC after the teachers wrote the re-sit papers.
The Public Relations Officer (PRO) for the NTC, Mr. Dennis Osei-Owusu, giving a statistical breakdown of the results in an interview, indicated that out of the 7, 728 teachers who participated in the re-sit exams, only 1,277 passed.
Those who fail the paper have at least written twice, and the highest is 9 times.
This according to the PRO raised concerns about the outcome of the licensure re-sit exams and its implications on the educational sector.
"In all we had 7,728 candidates sat for the exams and these candidates were all re-sitters. They are teachers who had written it before and they couldn't make it. The least is twice written, and the highest is 9 times. These are the group of people who sat for the exams. And only 1,277 passed the exams, they are the only people who passed and don't have a deficit again. 16.5% of them passed the exams.
"It's a national security threat, we are having people going to the classrooms to teach our future generations and if I tell you the kind of things some of them wrote, you ask the kind of training they had in their various training institutions before they got here. Everything shows that most of them are not ready to be teachers, they just want to explore the system," the N TC PRO highlighted.
Meanwhile, Mr. Osei-Owusu has outlined some alternative measures for candidates who failed the licensure re-sit exams.
"They still have the opportunity to write once more. We have introduced a reform, where the nature of the exams is going to change. And so they are doing the last one, they are going to be given a last opportunity to write, if they are not able to make it, then they have to join the reform and pick the exams again.
"Those who qualify for the reform are only teachers with bachelor's degrees. If you don't have a bachelor's degree and you want to join the reform or subject-based up-grade, then they have to get a degree before they can come and sit for that one, that is the arrangements we have for them," he noted.