Breaking News
General News
News & Trending
Politics
Trending
Frimpong- Boateng in hot waters?…sued for GH¢2.5m defamation suit by Former Manso Nkwanta MP 
Frimpong- Boateng in hot waters?...sued for GH¢2.5m defamation suit by Former Manso Nkwanta MP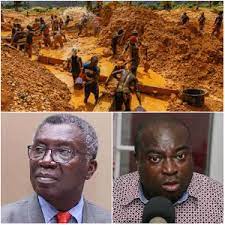 The former Chairman of the Inter-Ministerial Committee on Illegal Mining (IMCIM), Professor Kwabena Frimpong-Boateng has been sued for defamation by Mr. Joseph Albert Qualm, a former Member of Parliament (MP) for the Manso Nkwanta constituency in the Ashanti Region,
Mr. Qualm among other reliefs is seeking GH¢2.5 million in damages from the former IMCIM Chairman who was also the then Minister of Environment, Science, Technology and Innovation as well as a restraining order preventing him (Prof. Frimpong-Boateng) from making further commentary on the galamsey report he authored.
The former MP for Manso Nkwanta is praying the court to declare "that the Defendant's averments in his report which alleged underhand sales of mining concessions to the Plaintiff is capable of a defamatory meaning and are actually defamatory of the Plaintiff."
Mr. Qualm is also seeking an "injunction restraining the Defendant his servants, or agents or otherwise, from further publishing or causing to be published any portion of the Defendant's report so long as they relate to the allegations made against the Plaintiff; and to further restrain the publication or repetition of the said or similar words defamatory of the Plaintiff through media interviews and other such by the Defendant.
Prof. Frimpong-Boateng in his galamsey report which was alleged to have been leaked to the public domain, among other things stated that the former MP had used his position as a board member on the Minerals Commission to acquire dozens of mining concessions.
Professor Fimpong-Boateng also alleged in the report that Mr. Qualms would usually end "up selling these concessions to private individuals, including party members for two hundred thousand Cedis per concession. This infuriated the party in the constituency so during the 2020 primaries to select a candidate the electorate voted against Hon. Quarm, the sitting MP, who was more resourced than other candidates. Although there were allegations that he "camped" delegates and attempted to bribe them, he lost to a lesser known individual who did not have any financial muscle."
Story: Kwadwo Buabeng