General News
News & Trending
Wash
Trending
You are responsible for  your immediate sanitation not gov't – Chief of Adukrom
You are responsible for  your immediate sanitation not gov't - Chief of Adukrom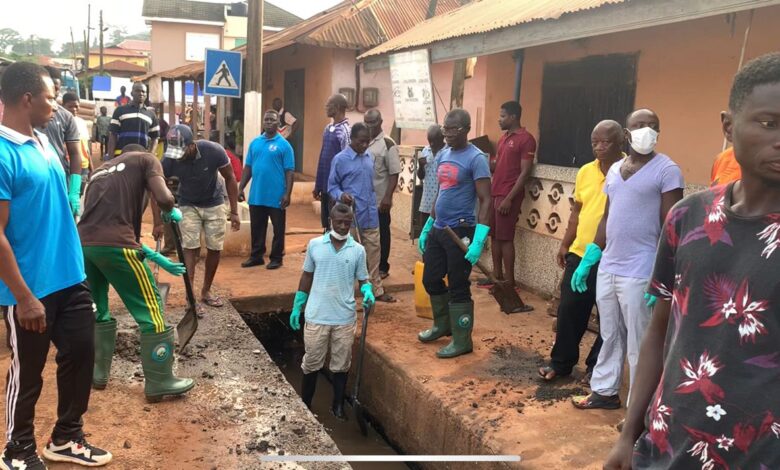 The Chief of Adukrom, Nana Otutu Ababio V has called on his subjects and Ghanaians at large to take personal responsibility for issues of sanitation in their immediate surroundings.
According to him, it's rather unfortunate to hear people calling or relying solely on the government to come to clean their immediate surroundings.
The Chief of Adukrom, gave this advice last Saturday when the Adukroman Foundation, a Non-Governmental Organisation (NGO) together with the Chief and elders of Adukrom organized a clean-up exercise across the entire township.
The aim of the clean-up exercise was to keep the town and its environs clean to prevent indigenes from contracting preventable diseases such as diarrhea, typhoid, malaria, and others.
Nana Ababio V used the opportunity to commend citizens of Adukrom who have come together to form the Adukroman foundation especially Emelia Buzzell aka Mama Emelia as founder, and the rest for taking such a great initiative in giving back to society, especially for the provision of four mechanized boreholes for some communities which lack potable water.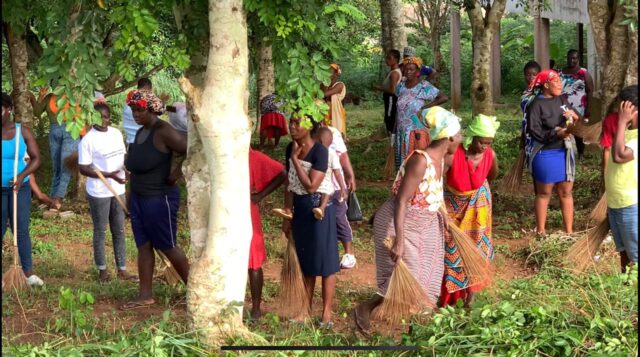 Speaking in an interview at the sidelines of the clean-up exercise, the District Environmental Officer for the Okere District Assembly (OKDA), Mr. Jato Joe expressed his profound gratitude to the organisers, the chiefs, and the participants for carrying out such a major clean-up exercise.
He explained that exercise will bring many health benefits to the people and the entire community.
According to Mr. Jato Joe, a filthy environment breeds several illnesses which in most cases lead to the death of several people especially children who are most vulnerable.
"It's always safer and cheaper keeping our environment clean health-wise than to carry money in fighting diseases that could be avoided if the soundings had been kept clean from dirt". He pointed out.
The OKDA District Environmental Officer used the opportunity to urge the chief, elders, the executives of Adukroman Foundation, and the entire community to regularly organise clean-up exercises to keep the environment clean always to help protect the well-being of people.
Sections of the participants, who spoke to GBCGHANAONLINE's Franklin ASARE-DONKOH in an interview after the clean-up exercise expressed their joy for undertaking such a communal exercise.
They pledged to support such clean-up exercises and other communal activities that seek to improve their well-being.
The clean-up exercise brought together hundreds of people from all walks of life. The groups displayed a high level of willingness to take their environmental issues into their own hands and also showed unity and harmony among all throughout the exercise.
Story: Kwadwo Buabeng