Breaking News
General News
News & Trending
Politics
Trending
Parliament calls Jean Mensa's bluff …throw-out her proposed CI seeking to make Ghana Card sole identity document for voter registration
Parliament calls Jean Mensa's bluff …throw-out her proposed CI seeking to make Ghana Card sole identity document for voter registration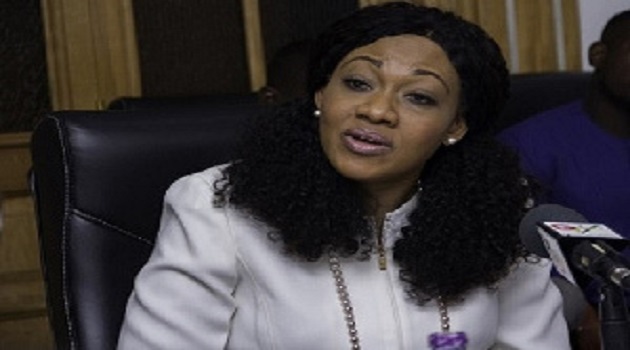 Members of Ghana's Parliament have unanimously rejected the Electoral Commission's (EC) proposed Constitutional Instrument (CI), on the Public Elections (Registration of Voters) Regulations, 2023 seeking to make the Ghana Card the sole identity document for voter registration.
However, the House has directed Ghana's electoral management body to present a new one with a guarantor system reinstated.
The use of the Ghana Card as the sole identification document, according to the EC, would have removed completely the guarantor system for the voter registration exercise.
The chairperson for the EC, Madam Jean Mensa briefing MPs on the floor of Parliament on Tuesday, February 28, 2023, claimed that the guarantor system was prone to abuse thus her unshifting position to use only Ghana Card for the upcoming limited registration.
"Mr. Speaker, the use of only Ghana Card will ensure and guarantee the credibility of the register and elections, prevent enrolment of minors, prevent foreigners from voting, and eliminate the guarantor system which is prone to abuse." She reiterated.
"The Ghana Card will not be used for voting in 2024, it will be used to register," The chairperson for the EC added.
Before the chairperson for the Commission was hauled to the House, the National Democratic Congress (NDC) Minority Caucus has been raising issues against the proposed CI.
The immediate past leader of the Minority Caucus and MP for Tamale South Constituency in the Northern region, Mr. Haruna Iddrisu made the stands of the Minority clear that they were opposed and will oppose any move by the electoral management body to make Ghana Card the sole reference for purposes of getting registered as a voter because "There is the right to vote and be voted for, the NDC will defend that right."
"The right to vote and be voted for is sacred. 3.5 million People don't have the card, can you tell these 3.5 million persons not to vote?" He asked.
Story: Kwadwo BUABENG