Education
General News
Trending
UG faults GTEC over tertiary fee increment brouhaha
UG faults GTEC over tertiary fee increment brouhaha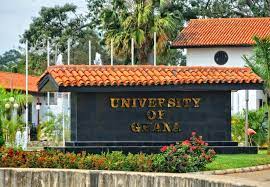 The Pro-Vice-Chancellor in charge of Academic and Student Affairs at the University of Ghana, Professor Gordon Awandare, has blamed the Ghana Tertiary Education Commission (GTEC) for the confusion surrounding the increment in the facility user fees by the university.
Explaining the current increment which has created some furore among students and parents, Professor Awandare said nothing illegal has been done by the management of the university adding that GTEC got its explanation wrong in its earlier statement on the increment.
The directive followed numerous complaints that some universities were charging more than the 15% Rate Approved by Parliament, hence the intervention by GTEC.
"This is to kindly remind all public tertiary institutions to abide strictly by the approval given. Any increases above the approved rate shall be in direct contravention of the fees and charges (Miscellaneous Provisions) Act, 2022 (Act 1080) and likely to attract sanctions from the Parliament of Ghana," GTEC said in a statement.
But speaking to Nathan Quao on the Citi Breakfast Show on Tuesday, Professor Aawandare said the adjustment of fees is based on rates approved by Parliament and communicated through the Ghana Tertiary Education Commission (GTEC), thus it is legal.
"We are increasing our fees exactly according to the Law. What is going on is that the communication that came from GTEC misled the students into thinking that the fee increment was based on a specific 2021/2022 fee so even if you were paying a subsidised fee in 2021/2022 then we need to use that which is completely wrong.
"The increase was charged on the last approval and the last approval was in 2019…So it will be ridiculous to say we should use whatever we used last year, so if we were charging illegal fees last year, we should continue using that. Let's do things properly, and so we should not mislead students to think that anything illegal is being done here."
Professor Awandare added that after a meeting with student leaders on Monday, the issue has been settled, and called on GTEC to come out and correctly explain the increment to the student body to calm tensions.