News & Trending
Sport
Trending
It's a great feeling to officiate a World Cup final- Referee Szymon Marciniak
It's a great feeling to officiate a World Cup final- Referee Szymon Marciniak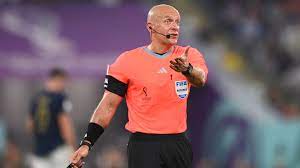 Polish referee, Szymon Marciniak is excited he will officiate the 2022 FIFA World Cup final between France and Argentina on Sunday, December 18, at the Lusail Stadium.
The 41-year-old would be the first man from his country to take charge of a FIFA World Cup final.
According to him, this was a huge boost in his career having gone through lots of challenges last year.
"I had a very difficult time for the last year and a half years, I had tachycardia, it's a heart illness, In the beginning, it was very difficult for me and I had to stop refereeing."
He said he was encouraged to give off his best going into Sunday's clash, having missed the UEFA European Championship due to illness, which he described as "a terrible feeling".
The FIFA referee said, "Now, life gives back to me and I cannot stop smiling because it's a great feeling".
The experienced referee would be assisted by Pawel Sokolnicki and Tomasz Listkiewikz for the hotly anticipated clash.
Szymon Marciniak had over the past years officiated some big games in Europe, having stood in to run last season's UEFA Semi-final first-leg encounter between Liverpool and Villarreal.
Story: Inghananewstoday.com