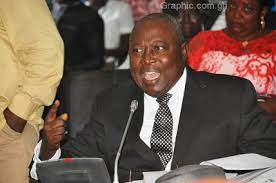 I read an epistle from Martin Alamisi Amidu, a failed Special Prosecutor on the Speaker of Parliament, Rt Hon Alban Sumani Bagbin.
As usual, Martin Amidu always wants to play at the gallery. He arrogated himself as the master of all.
He knows it all. He is always right and others are wrong.
His attack on the Speaker is baseless, malicious, full of hatred, and laced with an unnecessary rage of nothing.
In our culture and tradition, when an elder goofs or errs, the correction is not done in the public or through writing for all to consume but in camera especially when it is not injurious to the public policy or interest.
Martin Amidu, Speaker Bagbin is a fellow brother and you have the opportunity to engage him and share your observations about him, not to as usual exhibit your unnecessary and excessive public attack on one of the nation's assets and a political pillar of our time.
Bagbin's legacy in our democratic dispensation in this 4th Republic is huge.
His determination, commitment, dedication, and consistent love to nurture democracy, rule of law, and guarantee the rights of all are known and very visible.
As a Speaker, he has so far espoused the principles of impartiality, fairness, neutrality, and objectivity to the parties in the House.
Even though, he was elected on a ticket of a party, the National Democratic Congress against his former boss, Right Hon Professor Mike Oquaye. He shuns his partisan affiliation to work for Ghana.
It is a truism that he has seen it all in the 4th Republican Parliament, from a chairman of a Committee to Minority and Majority Leadership positions that he had held.
He was once a fulcrum of the House. A good debator and authority in the procedures of the House.
The seventh Parliament in this republic honoured him for his contribution towards the enrichment of our Parliamentary Democracy.
He briefly served on the Executive as a Health Minister and also served as a second Deputy Speaker.
Those distinguished accolades are visible and tangible, Martin Amidu and his cohorts cannot eliminate or erase these achievements with his tortuous and jealousy-laced epistle on the Speaker.
The Speaker did nothing wrong to remind the House of his antics, experience, and other ways of contributing to debates on the floor of the House when he was a Member of the House. (As a practising MP).
Martin Amidu's attack on the Speaker's admonition to the members does not in any way portray him as a village chief issuing directives to his subjects.
So far as stated, Speaker Bagbin has excelled in his seat and hopes he will continue to do more for mother Ghana.
Baseless criticisms are not the accepted norms, productive ones should be welcome.
Once again, Speaker doesn't behave as a village chief, please, Martin Amidu
By: Ahmed Osumanu Halid
Nima441