News & Trending
Opinion
Trending
IS NDC Worth Dying For? The Case of General Mosquito.
IS NDC Worth Dying For? The Case of General Mosquito.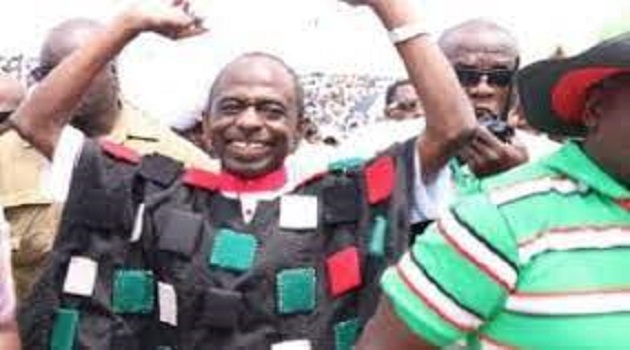 General Mosquito or Asiedu Nketia is a household name in Ghana. When you mention Asiedu Nketia or General Mosquito, even a six-year-old child knows whom you are referring to and which party he belongs to. When there is any critical issue in the party, the person the party faithfuls look up to is General Mosquito. Whenever there is a dire situation in the NDC fraternity, people begin to ask where the General is. If anything goes wrong at the party, no one is interested to know who did what, all they know is General Mosquito.
I'm wondering why all of a sudden this nobleman has become greedy and violent in the face of some people who want to trade with the party. He simply wants the party to win the 2024 election at all costs.
How can somebody who has diligently served his Party for the past 17 years without issues, suddenly become greedy and violent?
Like seriously?
Why did we keep on voting for a greedy and violent person as our General Secretary over the past years? Were the electorates not thoughtful enough? or being greedy and violent is a prerequisite for the position of the General Secretary?
Have we forgotten that this despotic Akufo Addo – Bawumia NPP stops at nothing to win the election?
In 2 Corinthians 5 vs 13, Apostle Paul said "For if we are out of our minds, it is for God" In the same way, if General Mosquito is being tagged as violent, it is for nothing but the sake of the NDC.
Do you remember 2008 when the party was at the crossroad?
If mobilizing support base to surround the EC Headquarters when NPP started changing the figures in 2008 is violent, then indeed General Mosquito is violent and will employ all means to ensure the NDC is not shortchanged in the next polls. Efforts to ineffectuate our toil and tireless work for victory will be met boot for boot, and not with five days of fasting and prayers for the EC to change their mind or a "fama nyame" attitude.
During the last EC registration, if the General had not violently confronted the military, Akufo Addo would have collaborated with the military to disenfranchise almost 700 NDC members in Banda Constituency. We won the Banda seat with less than 100 votes, so imagine it was a soft and weak executive instead, gentility would have lost us that seat.
Have we forgotten so soon, that if he had not violently followed Sene West Seat right away from Wenchi High Court to Techiman Regional Police Headquarters, wouldn't we have lost the Sene Seat West?
What if he did not 'violently' sit at the gallery to coach our Parliamentary caucus on the night of the speaker elections?
What would have been our fortune, if the party had had another bold National Executive like him to protect Takwa Nsuaem seat at the same time he was also fighting for Sene West Seat?
If the General can do all these and many other things all in the name of the party and he is being tagged violent, who will then sacrifice for the party again?
Is General Mosquito greedy?
Chief Biney is the Deputy National Organizer who is contesting his boss Akamba, I've not heard anyone calling him a greedy person.
In 2014, Hon. Kofi Adams was the Deputy General Secretary, he contested Wofa Yaw Gyan for the National Organizer position, and no one called him a greedy person.
Barbara Serwaa Asamoah was the Deputy Youth Organizer, she lobbied to become Deputy Minister after the 2012 election. When the party lost in 2016, she moved back to contest for Deputy General Secretary, he unseated Mr. George Lawson. I did not hear anybody calling her greedy.
Sammi Gyamfi was a member of the Communications Team, he contested Fred Agbenyo and won. I did not hear anybody calling him greedy.
Why Asiedu Nketia?
I humbly ask the following questions?
Is it the case that General Mosquito does not merit the National Chairman position?
Or, a General Secretary is not supposed to contest the National Chairmanship position?
Or, no one is permitted to contest a chairman who has just served one term?
What will make someone call a man who has stagnated at the office of the General Secretary for the past seventeen years without going for any ministerial appointment, which will afford him the opportunity to get ex-gratia, a greedy man?
But the Church Elder who within the same period,  has galloped from National Organizer (who serves under the General Secretary) to Regional Minister, Local Government Minister (Cabinet Minister), Vice Chairman cum Director of Elections, and National Chairman and wants to re-contest National Chairmanship position is not greedy?
Ponder on this.
By: Justice Yeboah
House No O/M 75
Mamponteng Mission
Asanti Akim South.