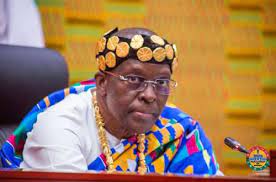 Speaker of Ghana's Parliament, Rt. Hon. Alban Sumani Kingsford Bagbin is billed to address the ongoing Commonwealth Parliaments Association (CPA) Africa Regional Conference taking place in Freetown Sierra Leone on Tuesday, June 7, 2022
Speaker Bagbin who is the leader of Ghana's high-powered delegation is expected to deliver a paper on the topic of the "Role of African Parliaments in accelerating intra-African trade."
Ahead of that address, the President of Sierra Leone, Mr. Julius Maada Bio has stressed the need for Parliaments across the African sub-region to promote democracy and foster economic development.
Speaking at the opening ceremony of the conference, Mr. Maada Bio urged African governments to take advantage of regional legislative Instruments to work towards a common passport, market, and a single custom and monetary union.
The 52nd Regional conference and annual general meeting which is on the theme "The Role of African Parliaments in Building inclusive society to counter growing insecurity in Africa" is expected to strengthen parliamentary democracy in Africa.
Story: Inghananewstoday.com