Business
News
News & Trending
Wash
Trending
Stop conniving with staff to indulge in illegalities -GWC urges customers 
Stop conniving with staff to indulge in illegalities -GWC urges customers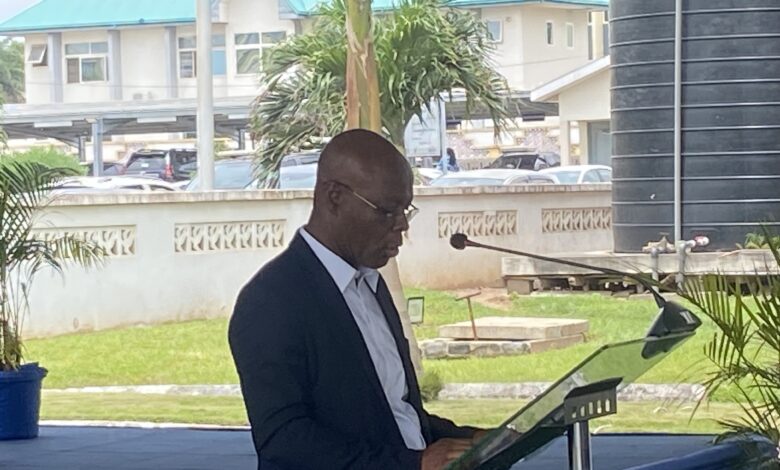 Management of the Ghana Water Limited, (GWL), has urged customers not to connive with its staff to indulge in any metering illegalities. This adversely affects revenue generation of the company resulting in upward adjustment of water tariffs.
Speaking at a media briefing and exhibition dubbed "Accounting to our Customers" in Accra, the Managing Director of GWCL, Dr. Clifford Abdallah Braimah urged customers to own up and report staff who engage in such acts, adding that those found culpable will be sanctioned.
Dr Braimah said although the galamsey menace has polluted water bodies, the Company will continue to ensure that customers get quality water.
" let me use this opportunity also to caution customers, I was in Tamale last week a customer had his meter that was not read over a period and our staff had the courage to talk to the customer that the readings on his meter were so high that if we want to bill you, you would pay more. He negotiated with the customer to pay thousand five hundred of our Three thousand Three hundred or three Thousand five hundred there about and this thousand five is meant to go into his pocket so please we are pleading with our customers to pay the little they need to pay and let's keep the company" Ing Dr Braimah indicated
The media briefing was to inform the public about the operations of the GWCL and provide an avenue for customers to interact with the staff. This is the second edition. The programme was also to acknowledge the commitment of customers in spite of the challenges and difficulties the company has faced over the years.
The GWCL also launched a new corporate logo, as the name of the company has changed from Ghana Water Company Limited to Ghana Water Company. The Managing Director of the GWCL, Dr. Clifford Abdallah Braimah, spoke about some of the challenges hindering the progress of the company including, galamsey, nonpayment of bills, high turbidity, and illegal connections," The Managing Director said.
"Some of our stations because of the high turbidity levels, instead of doing five percent process loss and having ninety-five percent as clean water pushed into the system we would do as much as fifty percent process loss, and that's the challenge that we have with some of the centres especially if you go to Takoradi.
Dr. Braimah said in order to improve revenue collection, the Company is doing its best to ensure customers pay their bills to help the operations of the Company. While expressing gratitude to customers, he called for further collaboration to provide safe and quality water for all.
"Sometimes you want to go for your revenue and they say that because in a particular locality, they don't get a regular flow of water and they don't want to pay. I think we want to use this as an opportunity to also tell people that we are not on the prepaid we are on the postpaid system and so If our meter reads two Cubic meters, what it means is that though you don't get a regular flow of water but two meters of water has passed through your pipe during that period and that's the only one we are asking you to pay. We are not asking you to pay for what you haven't received, and so when our staff come to you to ask for payment, it is not because you get a regular flow of water or you don't get it but because our meter has recorded that you have consumed the specific amount of water," Ing. Dr. Braimah said
There was an exhibition where regional offices across the country showcased the various projects going on in their areas.
Story: Kwadwo BUABENG