General News
News & Trending
Wash
Trending
Poor sanitation practices cost Ghana $290 million annually – WSP Report
Poor sanitation practices cost Ghana $290 million annually - WSP Report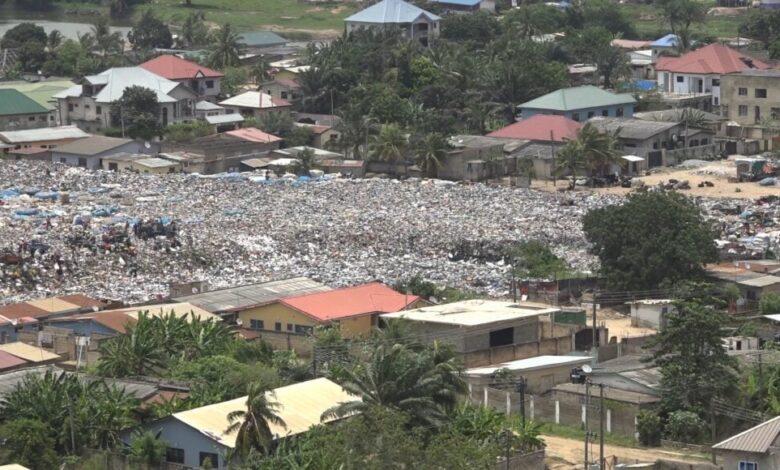 A recent desk study conducted by the Water and Sanitation Program (WSP) has shed light on the economic burden of poor sanitation in Ghana.
According to the study, inadequate sanitation practices cost the country a staggering GH¢420 million or $290 million annually.
This financial strain highlights the urgent need for improved sanitation infrastructure and practices to alleviate this substantial economic burden.
In Ghana, only 5% of the 1.3 million tons of plastic waste is collected for recycling each year.
This alarming statistic underscores the global issue of plastic pollution, which has far-reaching consequences for marine life and ecosystems.
A startling 11 million tons of plastic waste leak into the ocean each year.
More alarming is the long-term projection, which estimates that there will be more plastic in the ocean than fish by 2050 if urgent and collective action is not taken.
This dire prediction serves as a stark reminder of the critical need for immediate measures to combat plastic pollution and safeguard our oceans.
An environmental expert, and Country Director for CHAiNT Afrique Ghana, Venan Sondo, knows the implications of this situation.
"It's crucial that we address these issues promptly. Poor sanitation not only burdens our economy but also threatens public health. Additionally, the alarming rate of plastic waste entering our oceans is a global crisis that demands immediate attention. We must work together to find sustainable solutions to mitigate these environmental and economic challenges."
Mr. Sondo recalled a study at the estuary of River Ayensu at Winneba which revealed that over 275,000 kilograms of plastic waste enter the sea each year.
These revelations from the recent study emphasize the pressing need for action to combat poor sanitation and plastic pollution in Ghana and around the world.
Despite increasing awareness about plastic waste management in Ghana, the lack of adequate infrastructure remains a significant obstacle.
While awareness campaigns have made strides in educating the public about the importance of responsible waste disposal, the absence of accessible facilities continues to hinder these efforts.
In an effort to address this issue and promote sustainable waste management practices, a two-day hands-on training programme was recently organized in Accra.
It also served as an upstream sustainable management of plastic pollution in Accra, Ghana with expertise from DAAD alumni.
The primary objectives were to increase public awareness through practical demonstrations, discourage the use of single-use materials, and encourage waste collection initiatives, particularly within the school system.
Participants were selected from various sectors of the economy, showcasing a diverse group committed to addressing this critical challenge.
They came together with a shared goal: to make a positive impact on plastic waste management in Ghana.
A participant, Precious Abekah, described the programme as a great opportunity that allowed them to gain insight into the plastic waste management situation in the country.
"The hands-on training was an eye-opener. It allowed us to experience firsthand the challenges faced in managing plastic waste. It has empowered me to educate and encourage my peers both at school and in the community to ensure that our streets are free from plastics and other waste materials. It also showed us how to make money by treating waste as a commodity rather than being trash."
As part of the training programme, participants embarked on a field visit to Kokrobite, where Coliba, a local organization, is actively implementing a plastic waste collection project.
This on-the-ground experience provided valuable insights into practical solutions and initiatives aimed at tackling the plastic waste problem at its source.
While the lack of infrastructure remains a challenge, initiatives like this hands-on training programme offer hope for a more sustainable future in Ghana's battle against plastic waste.
It's clear that by working together and leading by example, progress can be made in addressing this pressing environmental issue.
News DESK REPORT