General News
News & Trending
Wash
Trending
North Kaneshie branch of Assemblies of God Church undertakes clean-up exercise
North Kaneshie branch of Assemblies of God Church undertakes clean-up exercise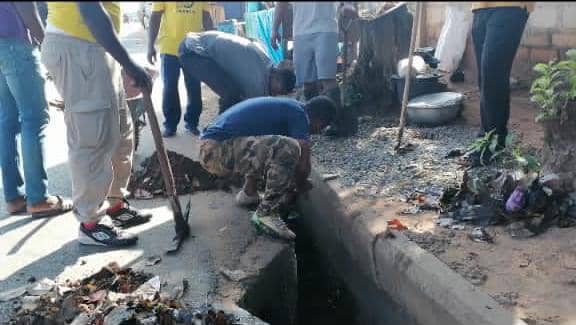 The North Kaneshie branch of the Assemblies of God is advocating for a clean environment to safeguard the health of Ghanaians as it wages 'war' against environmental pollution, indiscriminate dumping of waste, and littering.
The church on Saturday, September 30, walked the talk by leading community members in the Okaikoi South Municipality as it started a campaign to get the city of Accra clean.
Led by the Senior Pastor of the church, Rev Anthony John Doeh, they cleared debris from the gutters and fumigated several parts of the community.
They received support from corporate Ghana and other waste management organizations, including Zoomlion Ghana Limited which helped to cart the waste away.
The exercise forms part of the church's 50th anniversary celebration.
Speaking to journalists in Accra, Associate Pastor of the church Reverend Michael Nyarko Ampofo said the campaign to achieve a clean environment is very much on course.
According to him, the initiative forms part of the church's corporate social responsibilities.
"As far as our 50th anniversary is concerned, we have done a lot of things. You talk about food bursar, football games, business expo, etc. but now we are also looking at our communities. What can we do for our communities? Cleaning also is an exercise so we are here as a church on our 50th anniversary what can we do as a church.
"We are supposed to start this exercise from the last stop of Fadama, then straight to Swanlake but we could see there are other activities going on there. Participation has been good because the Assemblyman also brought his men to support the church to do this exercise," he emphasised.
On his part, Assemblyman for the Mokese Electoral Area in North Kaneshie, Benjamin Takyi said there are plans by the Member of Parliament for the Okaikoi South Constituency, Dakua Newman, to get litter bins at every junction in the community.
Being an incoming Assemblyman, Mr. Takyi said he is ready to serve his community.
"I couldn't leave the community members alone to do this exercise on their own so I came to support. I need the support of all the community members to assist me in achieving my mandate.
"I want to use this opportunity to appeal to the residents to take environmental cleanliness seriously. Very soon, we are going to provide hundreds of litter bins at all vantage points in the community so that people can easily drop in their litter to keep the environment clean. I have discussed this with the MP and very soon it will happen. We don't want to see the filth in our communities."
Meanwhile, National Democratic Congress Parliamentary Candidate for the Okaikoi South Constituency Ernest Adomako is also advocating for education on cleanliness.
He also donated bags of water and assorted drinks to the church.
"We plead with every resident to respect the assembly by-laws by not littering indiscriminately. This is why I have called for cleanliness programmes in our educational syllabi so that right from the nursery level the children know that it is wrong to litter around. It should be compulsory. I believe this would help to some extent."
Story: Kwadwo BUABENG