General News
News & Trending
Wash
Trending
ACCCE speakers advocate swift communication efforts on climate to mobile action 
ACCCE speakers advocate swift communication efforts on climate to mobile action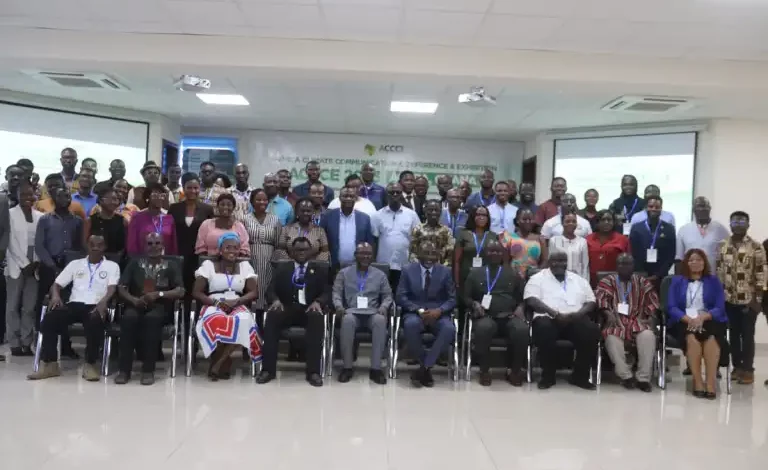 Stakeholders including governments and activists should aim to communicate climate change in an easy and relevant way for the populace to understand to derive the action required.
Climate change discussion is often rife with technical terms that not everyone is familiar with; abstract concepts that can be difficult to relate to; and conflicting information about what the problem is and the causes behind it.
Furthermore, the people who are most affected by the impacts of climate change are often those with the least access to information on what is happening, why it is happening, and how they can adapt to the changes they experience now and in the future.
It is in this light that the maiden Africa Climate Communication Conference and Exhibition (ACCCE) 2023, called on governments, organizations, and businesses to support people to adapt to climate change.
The Member of Parliament for Wa East, Dr Godfred Jassaw speaking as a panelist asserted that the subject of climate change has been very high-sounding English and there is not a lot of communication and reportage around the subject in ways that can help communities internalize.
Further, he explained that most of the causes of climate change events around Africa and society are largely anthropogenic -caused literally by human beings and so human beings must understand what these processes are, and one way, as communities, societies as people to understand, first appreciate the context of vulnerability and knowing that people always will deal with community asset -whether it is our natural environment and its capital, cultural environment and its asset, among others.
He said, "I think that in a conversation like this, we can consider how we communicate these properly to those communities and societies, so they can connect their very activities, and processes with the decline in environmental services."
One tool we can use is theatre for development -we are a cultural people, we drum, sing, and tell stories so if there is a way the conversation around climate can be connected with these processes that communities undertake then you will see that we may be effectively communicating to the people in ways that can bring change in attitudes, processes, utilization of these resources -that will have a positive contribution to the climate change we are experiencing."
The Minister of Environment, Science, Technology, and Innovation, Dr.Kwaku Afriyie underscored the need to make communications a central part in addressing climate change.
According to him, the government is building relevant institutional structures and frameworks for a climate-compatible resilient economy; "this is what Ghana needs to be able to address issues of climate change, we need an approach that brings everybody on board."
The conference convener, Kofi Don-Agor on his part opined that the country and the continent's response to the climate crisis is hampered by a communication gap. A gap that can only be bridged when stakeholders, from governments and businesses to individuals, recognize the significance of climate communication.
He also maintained that for climate communication to be effective, it must be rooted in three key principles; Accuracy and Science-Based Information, Engagement and Empathy, and Action-Oriented Messaging.
Government Leaders, business corporations, civil society organizations, and individuals were encouraged to communicate the importance of climate action to their citizens and enact policies that align with climate goals.
"The availability of quality information and knowledge sharing about climate change is crucially important because of its ability to motivate citizens, institutions, and society as a whole to be more involved in solving the problem," Mr. Agor stated.
The one-day round table conference on the theme "From Vulnerability to Resilience: Towards Effective Climate Change Communication Strategies for Africa" was organized to address the critical need for improved climate change communication across the continent. The conference sought to create a unique platform for constructive dialogue, collaboration, and knowledge exchange by bringing together key stakeholders, experts, policymakers, and communicators to build capacity towards climate change communication strategies for Africa.
Comprising about 17 percent of the world's population, Africa contributes just 4 percent of global carbon emissions at 1.45 billion tonnes, according to available data.
Story: Kwadwo BUABENG