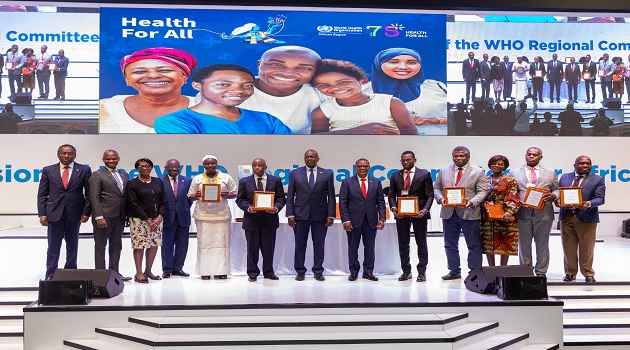 A Ghanaian public health professional who joined the World Health Organisation (WHO) in 1998 and served global public health for 19 years, rising to become the Deputy Director-General of WHO in 2007 until his retirement in 2017, Dr. Anarfi Asamoah-Baah, has been named the recipient of the Public Health Champion award.
The award, which was a recognition of his outstanding contribution to global public health, was conferred on him at the WHO's 75th-anniversary awards held at the margins of the 73rd WHO Regional Committee for Africa Meeting held in Gaborone, Botswana.
Dr. Asamoah-Baah was instrumental in the establishment of the 2005 International Health Regulations and the raising of Global Visibility for Neglected Tropical Diseases. Other notable achievements of Dr. Asamoah-Baah include the revitalization of Primary healthcare, the establishment of the Pre-qualification programme as part of the WHO Essential Medicines Programme, and the development of the first Global Strategy for Traditional Medicine.
In 2020, Ghana's President Akufo-Addo appointed Dr. Asamoah-Baah as the Presidential Coordinator for the government's COVID-19 Response Programme, where he was responsible for coordinating all aspects of Ghana's response. Post-COVID-19 pandemic, Dr. Asamoa-Baah was recently appointed chair of the National Vaccine Institute of Ghana and interim head of the Ghana Health Security Centre.
Dr. Asamoah-Baah received the award alongside the former President of Botswana, H.E. Festus Mogae, and former Regional Directors of WHO in the Africa Region, among other public health figures.
A citation presented to Dr. Asamoah-Baah by the WHO Regional Director for Africa, Dr. Matshidiso Moeti, reads, "This award is in recognition of your outstanding service to public health and promotion of the wellbeing of the people of Africa."
Dr. Asamoah-Baah said in his speech, "I am grateful to the WHO Regional Office for Africa for this recognition and appreciation. I am happy that WHO is recognising the role of member states and staff as we celebrate WHO at 75," he stated.
He also described the WHO as a force for good and expressed his gratitude for the opportunity to serve the organisation for many years.
"Dr. Asamoah-Baah is a distinguished global public health expert who truly deserved this recognition. Even in retirement, he continues to offer valuable service and contribution to both national and international efforts to promote the health and wellbeing of people," said the WHO Representative to Ghana, Prof Francis Kasolo.
Story: Kwadwo BUABENG