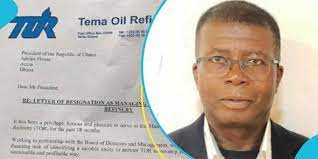 The Managing Director (MD) of the Tema Oil Refinery (TOR), Mr. Jerry Kofi Hinson, has resigned from his position as the MD of Ghana's only Oil Refinery on health grounds, according to a letter sent to President Nana Akufo-Addo.
Mr. Hinson stated in his letter dated August 11, 2023, that he is unable to continue his role as MD due to unforeseen health circumstances.
"It has been a privilege, honour, and pleasure to serve as the Managing Director for Tema Oil Refinery (TOR) for the past 18 months. Working in partnership with the Board of Directors and Management, we have undertaken the daunting task of identifying a suitable entity to partner with TOR to revamp its operations in a sustainable and profitable way."
"The long and arduous process has resulted in the selection of a potential partner who needs to be taken through the various approval stages."
"Regrettably, I am unable to continue in my role as Managing Director due to unforeseen health circumstances.  This letter, therefore, serves as my notice of resignation from the Managing Director's position effective from an agreed handover/transition period with the Board of Directors," parts of the letter read.
Mr. Hinson said he was committed to ensuring a smooth transition of his duties and to performing them thoroughly until his last day at the post.
"I would like to express my sincere appreciation to you for giving me this unique opportunity to serve my country at this level," he added.
Read the full letter here:
Source: GBCGHANAONLINE.COM/Inghananewstoday.com/Franklin ASARE-DONKOH