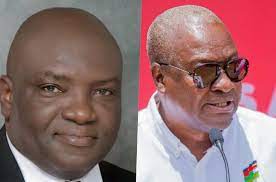 A former Member of Parliament (MP) for Gomoa West Constituency in the Central Region on the ticket of the New Patriotic Party (NPP) and a private legal practitioner Mr. Alexander Kodwo Kom Abban has rubbished a suit filed by the Managing Editor of the Daily Searchlight and twice defeated Parliamentary Hopeful of the NPP, Kenneth Agyei Kuranchie against former President John Dramani Mahama to run for president in 2024.
According to Mr. Kom Abban, the twice defeated NPP Parliamentary Hopeful for the Okaikoi North Constituency in the Greater Accra suit against Mr. Mahama is dead on arrival.
Speaking in an interview with the host of the "Sunrise show" on 3FM, the former NPP MP explained that even though former President Mahama is not permitted to do any other work, per the laws of Ghana, he is not barred from seeking to be president again.
The reliefs Mr. Agyei Kuranchie is seeking include, "A declaration that on a true and proper interpretation of Article 66 (1) of the 1992 Constitution, the number of years of a presidential term in Ghana is four years.
"A declaration that upon a true and proper interpretation of Article 66 (1)  and (2) of the 1992 Constitution, a person seeking a second presidential term must be a sitting president.
"An order directed at (John Mahama) to fully disclose to Parliament the terms of his engagements with Parliament as flagbearer of a political party."
Mr. Mahama was recently elected flagbearer of the NDC for the 2024 general elections.
During the NDC's primaries held on Saturday, May 13, 2023, he swept 297,603 (98.9%) of the total valid votes to become the party's Presidential Candidate for the 4th time.
In 2015 and 2020 Mr. Kuranchie contested in the Parliamentary Primaries of the New Patriotic Party to represent the Okaikoi North Constituency but lost on two occasions.
Story: Kwadwo BUABENG