Business
News & Trending
Trending
We warned pensioners to beware of Ofori-Atta – Mornah
We warned pensioners to beware of Ofori-Atta – Mornah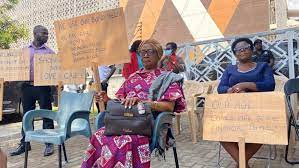 Former National Chairman of the People's National Convention (PNC) Bernard Mornah has bemoaned the plight of pensioner bondholders but said they are also to blame for the current predicament.
He said he warned them about the Finance Minister but the pensioners ignored his warning and rather heeded to a meeting with Ken Ofori-Atta.
"[They] put a hold at that time when we were telling them Ken Ofori-Atta should not be believed."
Mr Mornah was speaking on New Day on TV3 on Tuesday, May 9 when discussions on the recent picketing by the pensioner bondholders came up.
The retirees who decided not to subscribe to the Domestic Debt Exchange Programme (DDEP) returned to the Ministry on Monday, May 8 to demand payment of their mature coupons and principals.
According to them, the government and, for that matter, the Finance Ministry have failed in payment on almost all the timelines given.
Convenor Dr Adu Anana Atwi on Monday told journalists that until they are paid they will continue to hang around the premises of the Ministry.
Speaking about the action and plight of the pensioner bondholders, Mr. Mornah said when they staged the first picketing in February, Arise Ghana Movement, the group he is Convenor for, joined forces with #FixTheGhana Movement to back the pensioner bondholders.
Mr Ofori-Atta, according to the former National Chairman of the PNC, wanted the pensioners out of his premises in order to make a good case to the International Monetary Fund (IMF).
"Because Ken Ofori-Atta needed their absence at the Ministry to go and say my people have accepted."
He expressed sympathies with the pensioner bondholders but said Mr. Ofori-Atta cannot be trusted to pay their mature coupons and principals.
Source: 3news