Business
News & Trending
Trending
Ghana's borrowing president hits town again…set to borrow ¢3.33bn this week through T-bills auction
Ghana's borrowing president hits town again…set to borrow ¢3.33bn this week through T-bills auction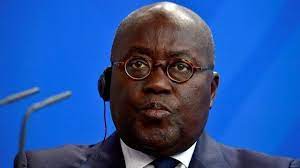 The government of Nana Addo Dankwa Akufo-Addo aka 'the borrowing president' is set to borrow ¢3.33 billion from the treasury market on Friday, May 12, 2023, to partly refinance maturities worth ¢2.31 billion.
According to sources from the finance ministry, part of the borrowed ¢3.33 billion will be used to settle coupon payments of the pension bondholders.
The amount which will be the biggest so far this year will be issued via the 91-day, 182-day, and 364-day Treasury bills.
Analysts perceive investors bidding higher yields on liquidity squeeze, as inflation data for April 2023 is expected to be released on May 10, 2023.
But the $750 million loans approved by the Parliament of Ghana last week may help slow down the rise in money market yields.
However, the cost of borrowing remains a concern to many analysts and market watchers.
The T-bill auction on Friday, May 5, 2023, was oversubscribed, as the treasury raised ¢2.57 billion, exceeding the gross target by 40.01%.
According to the auction by the Bank of Ghana, the government accepted a significant ¢2.56 billion from the bids submitted by the investors, largely the banks.
Yet again, the majority of the bids came from the 91-day T-bills as ¢1.62 billion were tendered. All the bids were consequently accepted.
Business Desk Report