General News
News & Trending
Politics
Trending
"My hands are clean. I only followed the rules." Bagbin cries out
"My hands are clean. I only followed the rules." Bagbin cries out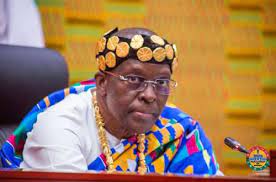 The Speaker of Parliament, Rt. Hon. Alban Kingsford Sumana Bagbin says nothing untoward was done in the passage of the controversial revenue bills despite the absence of the Member of Parliament for Nanton, Mohammed Hardi Tuferu.
"My hands are clean. I only followed the rules." cries out
The MP was involved in an accident on Friday while on his way to Parliament to partake in a vote on the financial bills under consideration.
Speaker of Parliament, Alban Bagbin after proceedings clarified why the legislator was counted as part of the votes.
"Members who are incapacitated shall upon reporting their incapacity to the Speaker through the Clerk shall be recorded. We have some of our members that are incapacitated and what I did was to ask the Whips to go and physically see them to assess their incapacitation and whether they are of sound mind."
"I did not do anything untoward. I only followed the rules." Speaker Bagbin cries out