Breaking News
Business
News & Trending
Trending
US to intercede on Ghana's behalf with the Paris Club…As the country struggles to seek debt forgiveness
US to intercede on Ghana's behalf with the Paris Club…As the country struggles to seek debt forgiveness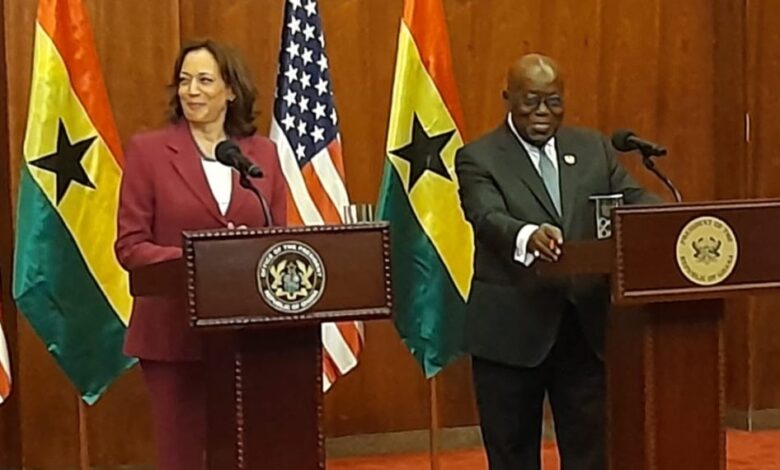 The government of the United States of America (USA) has promised to intervene on Ghana's behalf with the Paris Club as the country is struggling in seeking debt forgiveness as part of the International Monetary Fund's balance of payment support.
The promise was announced by the visiting US Vice President, Kamala Harris, at a joint Press Conference with President Akufo-Addo at the Jubilee House in Accra today 27th March 2023.
Addressing the media, Mrs. Harris, assured that the USA will help Ghana with all the support it needs to ensure that it scales through its current economic predicament.
"We welcome Ghana's commitment to reform its economy for sustainable and inclusive growth. We support Ghana's engagement with the IMF, and we will continue to push all bilateral creditors to provide meaningful debt reduction for countries that need it.
It is critical to do so to build long-term economic growth and prosperity and to increase US investments. Our partnership is already strong, and I believe that today we have strengthened it." She reiterated.
The US has also announced that its Department of Treasury's Office of Technical Assistance (OTA) will deploy a full-time resident advisor to assist Ghana's Ministry of Finance to develop and execute medium-to-long-term reforms needed to improve debt sustainability and support a competitive, dynamic government debt market.
The project, according to the USA will complement and build on the Government of Ghana's debt restructuring efforts.
This project is part of OTA's ongoing engagement to strengthen public financial management and financial sector oversight across sub-Saharan Africa.
Story: Kwadwo BUABENG