Education
General News
News & Trending
Wash
Trending
Plan Int. Ghana rollout IPADEV Project in Oti Region…project to benefit over 18,668 residents
Plan Int. Ghana rollout IPADEV Project in Oti Region…project to benefit over 18,668 residents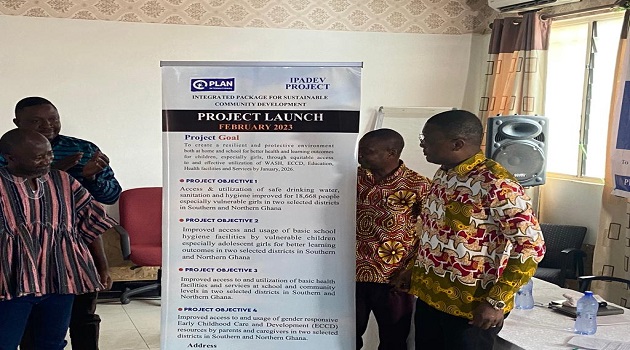 Over 18,668 residents from 10 communities in the Jasikan Municipality in the Oti region are said to benefit directly from Plan International Ghana's Integrated Package for Sustainable Development (IPADEV) project.
The 10 beneficiary communities are Koesim, Ketsi Nkwanta, Atwereboana, Atonkor, and Akaa.
The others are: Asele, Lekanti, Nanankor, Udey, and Dzoku.
Aside from the 18,668 people, there are about 36,000 estimated community members who will also benefit indirectly from the project.
The 18,668 direct beneficiary community members include 10,094 school children, 4,957 boys, and 5,137 girls from ten public schools.
Taking some stakeholders through various stages and components of the IPADEV project, at the official launch and start-up meeting at Jasikan, the Project Manager, Integrated Package for Sustainable Development (IPADEV). Plan International Ghana, Mr. William Domapielle, explained that the initiative seeks to contribute to creating a resilient and protective environment both at home and at school for better health and learning outcomes for children, especially girls, through equitable access to and effective utilization of WASH, Early Childhood Care and Development (ECCD), education, health facilities, and services by January 2026.
the IPADEV Project Manager at Plan International Ghana announced that some key activities to be implemented under the IPADEV project are: the construction of water facilities (hand pumps, mechanized systems, Pipe extensions) in 10 communities and the construction of 10 girl-friendly institutional ultramodern toilets.
Others are the implementation of Community-Led Total Sanitation (CLTS) in all 10 project communities, develop SMS platform for monitoring the functionality of water Systems Support for vulnerable households to construct and own improved latrines.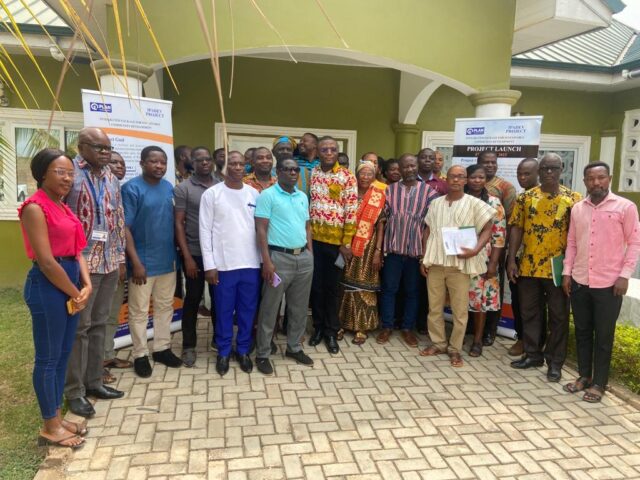 "There is also a component for conducting menstrual hygiene education in targeted schools and communities as well as provision of reusable sanitary pads to school girls." He reiterated.
Our expectations are that at the end of the IPADEV project, residents in the selected communities will have;
Improved access, and utilization of safe drinking water, sanitation, and hygiene.
Improved access and usage of basic school hygiene facilities by vulnerable children especially adolescent girls for better learning outcomes in ten selected communities.
Improved access and utilization of basic health facilities and services at school and community levels.
And, last but not least improved access to and usage of gender-responsive Early Childhood Care and Development resources by parents and caregivers. Mr. Domapielle opined.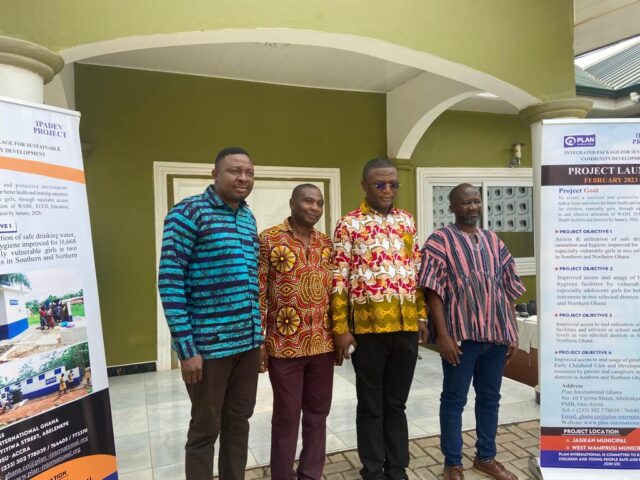 Again, the initiative amid at giving support to the following bodies: the Coalition of Non-Governmental Organisations in Water and Sanitation (CONIWAS) for WASH research and advocacy at the national level, the Ghana WASH Journalist Network (GWJN) to deliver WASH messages, engage the private sector for the promotion of appropriate household latrine technologies, organize hygiene promotion campaigns, support the Environmental Health and Sanitation Directorate to conduct monitoring of project communities as well as to collaborate effectively with the MSWR in the implementation of the project and other national level events.
The IPADEV project is being implemented by Plan International Ghana, a non-governmental organisation with funding support from the German National Office (GNO).
Present at the launch were the Member of Parliament for Buem Constituency, Mr. Kofi Adams, Jasikan Municipal Coordinating Director, Mr. Oheneba Apau Danquah, chiefs, queen mothers, assembly members, WASH sector stakeholders and staff of the assembly.
Story: K, Peprah