General News
News & Trending
It's refreshing to see former CJ protest against DDEP – Former NHIA CEO
It's refreshing to see former CJ protest against DDEP – Former NHIA CEO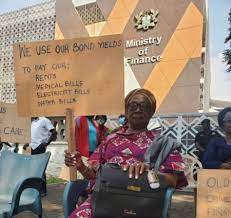 Former Chief Executive Officer (CEO) of the National Health Insurance Authority (NHIA) and National Democratic Congress (NDC) stalwart, Mr. Sylvester Mensah finds it refreshing to have seen the former Chief Justice, Sophia Akuffo, picket at the Finance Ministry in solidarity with pensioners and other individual bondholders.
"She also articulated the government's arrogant posture and the vain threat of sinking together if bondholders refuse to participate."
The former NHIA Boss expected the former Chief Justice to have gone further to say there is a lack of confidence in the Finance Minister, Ken Ofori Atta, "whose poor management and self-interest in the reckless borrowing over the past 6 years have brought Ghana to the edge of a cliff."
"How do we re-fuel our bus for the same bad and reckless driver, who has driven us into a ditch to drive us "safely" home? Change the driver, Mr. President!"
"We applaud former Chief Justice Sophia Akuffo for her discerning and distinguished voice in these deeply troubling times in Ghana. It is entirely predictable that NPP apologists and grassroots attack dogs would be unleashed to devour her, but to no effect: Ghanaians have been awoken from their slumber by the super incompetence of the worst government in Ghana's post-independence history," he added.