Breaking News
General News
News & Trending
Trending
Call Owusu Bempah to order or else – National Chief Imam tells IGP, Christian Council  
Call Owusu Bempah to order or else - National Chief Imam tells IGP, Christian Council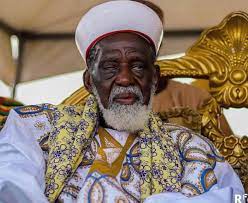 The office of the National Chief Imam is calling on the Inspector-General of Police (IGP) and the Christian Council to call the Founder and leader of the Glorious Word Power Ministries International, Rev. Isaac Owusu Bempah to order as the former continues to make His Eminence Sheikh Dr. Osmanu Nuhu Sharubutua subject of controversial prophecies.
In the interest of national unity, peace, and harmony, he (Owusu Bempah) should desist from mistaking the meekness of His Eminence as weakness, a statement issued and signed by the personal assistant to the national chief Imam, Dr. Mohammed Marzuq Abubakari Azindoo cautioned.
Rev. Owusu Bempah is alleged to have made some remarks considered to be disparaging to the National Chief Imam, Sheikh Dr. Nuhu Sharubutu.
In one of the remarks, Rev. Isaac Owusu Bempah reportedly said that the National Chief Imam and other leaders consult him to look into their destinies.
But the Office of the National Chief Imam has asked the general public to disregard such claims made by Rev. Owusu Bempah.
"We wish to state that all the claims of Rev. Isaac Owusu Bempah contain no iota of truth, but represent the figment of his own imagination.
"Undoubtedly, His Eminence is a champion of interfaith harmony and peaceful co-existence. But he does not seek protection and prosperity from charlatans on the pulpit. As a true icon of faith, His Eminence is guided by the divine words that "… Allah is sufficient for any person who relies on Him." (Quran 65: 3).
"Conclusively, we stand – at all times – for interfaith solidarity and national unity, as we contribute our quota to the building of a prosperous democratic state of diverse religious communities." Portions of the statement read.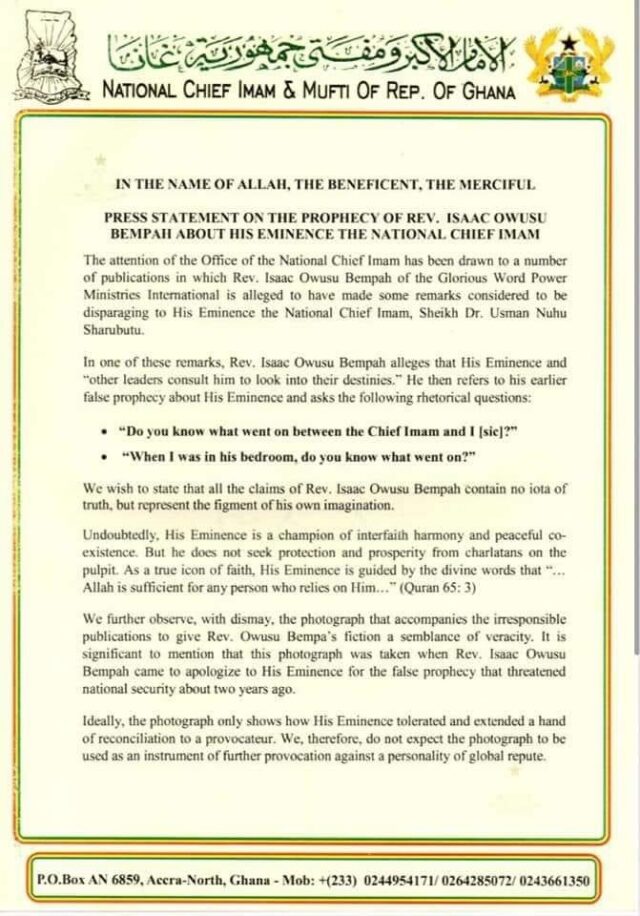 Story: Inghananewstoday.com