News & Trending
Politics
Trending
NPP National HQ whip Majority MPs in line….directed to boycott Minority's Parliamentary vote to remove Finance Minister
NPP National HQ whip Majority MPs in line....directed to boycott Minority's Parliamentary vote to remove Finance Minister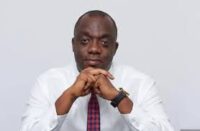 Earlier in a press statement, dated November 9, 2022, signed by the General Secretary of the NPP, Justin Frimpong Kodua, the party asked the leadership of the Majority MPs, "especially the Whips are to ensure that no Member of the Majority Caucus partakes in this exercise by the Minority Group in Parliament."
Parliament has scheduled to consider the vote of censure on Thursday, November 10, 2022.
The NPP stated in the statement, "while the National Executive body acknowledges the prevailing socio-economic conditions in the country and the need for urgent remedial interventions, it is our utmost position that the demand of the NDC-led Minority Caucus is ill-intended and aimed at derailing government's efforts at resolving current socio-economic upheavals."
"The leadership acknowledges that the Minister for Finance is the leader of the government's negotiation team with the International Monetary Fund.
Considering that negotiation with the IMF is nearly completed, the National Executive body of the Party strongly believes that the removal of the lead person spearheading the negotiation may adversely impact the progress made thus far."
"It is worth noting that when similar calls were made for the head of Mr. Seth Tepker, the then Minister for Finance during the socio-economic turbulence under the erstwhile Mahama administration in 2015, the NDC-led Majority Caucus objected to those calls and rose to the defence of Mr. Tekper, a clear indication that the NDC lacks credibility on this matter", the Statement noted.
Source: Inghananewstoday.com