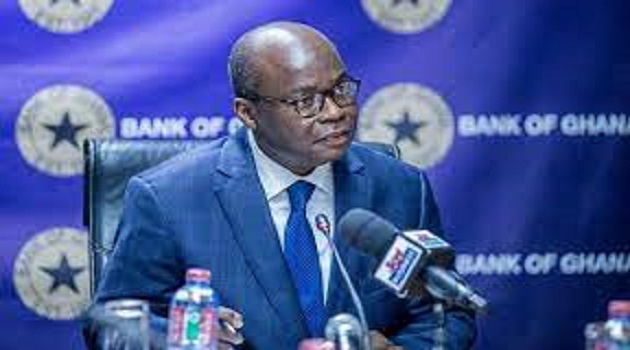 Bolga Central MP Isaac Adongo has accused Governor of the Bank of Ghana (BoG) of illegally giving an amount of  ¢70 billion to the government to finance matured debts.  
The Deputy Ranking Member on the Finance Committee has served notice to sue Dr. Addison over the matter.
Addressing a press conference in Parliament on Tuesday, November 8, he said "Ask yourself why the same taxes
that we imposed on petroleum products two years ago to deliver a liter of 4. 50 pesewas.
"So essentially, now the problem is not even about the taxes, it is about the exchange rate. Who is supposed to manage the exchange rate? It is the Governor of the central bank Dr Addison."
He added "Another big problem we have now is inflation. The Bank of Ghana manages the inflationary target framework whiles the Ghana Statistical service reports actually but the man who is in charge of managing our inflation targeting framework and ensuring that inflation expectations are anchored is the Governor of the Central Bank.
"The inflationary targeting framework within the confines of the Bank of Ghana provided very strict rules on what we call fiscal governance over monetary policy, in other words, there are strict rules on the government of Ghana can borrow from the Bank of Ghana.
"Those restricted rules are quite clearly stated that the BoG at any point in time should not have lent more than five percent of the previous revenue cumulatively. If you consider last year's revenue then the government cannot even borrow five million Cedis from the BoG.
READ ALSO:
Ghana Beyond Aid doesn't mean we dislike aid – Osafo-Maafo
"But by the end of the year 2021, Dr Addison has illegally lent to the government ¢35billion, and by May this year, he had added an additional ¢22billion when the Minister came at Mid-year review. As we speak today, Dr Addison has been financing the government and paying maturing debt obligations the domestic market that the government cannot find, we are currently looking at something in excess of 7billion of illegally borrowing by the Government of Ghana from the BoG.
"If you have a corrupt government such as Akufo-Addo and Dr Bawumia and you pump 70billion to the economy that does not belong to the economy, they steal them and they  put them in their rooms under their beds.
"Under the current circumstance, the best storage of money is Dollars and not Cedis. So Dr Addison's 70 billion are now in the homes and beds of government functionaries, is what is chasing the Dollar.
"How can Dr Addison still be the Governor of the Central bank? I call on Dr Addison as a matter of urgency, to exit BoG and give Ghana the chance to clear the mess. Today, I have instructed my lawyers to serve him notice  and to remind him again of a letter I served him, that if by the end of the third meeting of the second sitting of the 8th Parliament, he has not complied with his obligation to parliament for us to exercise our oversight role, I will sue him and I will proceed to court."