General News
News & Trending
Wash
Trending
Ghana needs two billion US dollars to meet the SDG target on Sanitation – Issahaku Chinnah
Ghana needs two billion US dollars to meet the SDG target on Sanitation - Issahaku Chinnah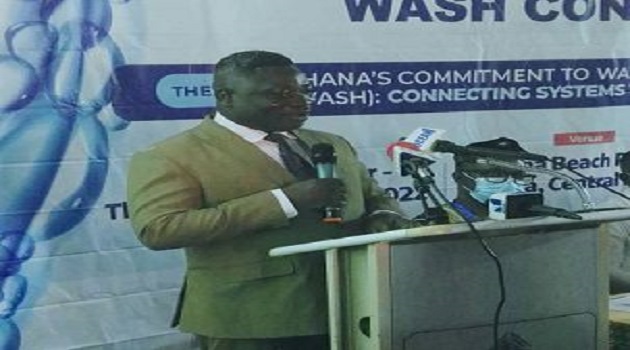 The Deputy Minister of Sanitation and Water Resources (MSWR), Mr. Amidu Issahaku Chinnah has revealed that Ghana needs a minimum of two billion United States (US) dollars in capital investments to meet Sustainable Development Goals (SDGs) target on sanitation.
According to him, the construction of household toilet facilities across the country is estimated at 41 billion US dollars.
Speaking at the open ceremony of this year's Mole WASH Conference Series which is currently underway at Elmina in the Central Region, the Deputy Minister of MSWR explained that sanitation services including emptying and treatment of liquid waste are also estimated at three million US dollars.
He further explained that schools and health care facilities without sanitation facilities also need about 85.1 million US dollars and 146 million US dollars respectively.
"Sanitation projects totaling 500 million US dollars have been implemented in Ghana since 2010. About 60 percent of this investment was focused mainly on non-sewered sanitation and condominium sewerage." Mr. Issahaku Chinnah disclosed.
He appealed to WASH stakeholders to focus more attention on delivering comprehensive district-wide sanitation services in order to meet the SDG set targets.
The Mole conference series is an annual conference organized by the Coalition of NGOs in Water and Sanitation that seeks to bring stakeholders in the WASH sector across the country together to review Ghana's commitment towards universal access to sustainable wash service in the country and develop a strategic plan to solve WASH related issues in the country
The conference is under the theme: "Ghana's commitment to water sanitation and hygiene: Connecting system to bridge service delivery Gaps.
Ghana's performance towards Sustainable Development Goal six, SDG 6 according to the global SDG dashboard indicates there has been a slight improvement in the WASH sector.
Statistics from the 2022 Population and Housing Census show that access to household toilets, which was reduced from 48% in 2000 to 46% in 2010, has suddenly taken an upward trend of 59% in 2021.
Current data on household toilet facilities has it that one million households have access to both exclusive and shared toilet facilities in the country.
Meanwhile, the chairman of the coalition of CONIWAS, Mr. Yaw Attah Ahirn called on the government through the Ministry of Sanitation and Water Resources to push for the establishment of the proposed National Sanitation Authority together with the National Sanitation Fund. This he said will be the game changer in Ghana's environmental sanitation services delivery.
Mr. Arhin said the theme for the conference is appropriate since the stakeholders will be discussing the system approaches and models of wash service delivery and how to connect these systems to bridge service delivery Gaps.
Story:  News Desk Report