Breaking News
General News
News & Trending
Trending
Martin Kpebu calls on Akufo Addo to resign…Says he is giving Ghanaians headache
Martin Kpebu calls on Akufo Addo to resign...Says he is giving Ghanaians headache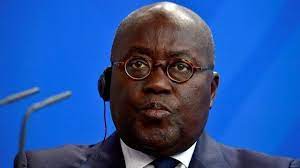 Private Legal Practitioner Martin Kpebu has lashed out at President Akufo Addo saying he must resign for failing to win the galamsey fight.
"How can you sit down for our forest and waters to be destroyed? You have MCEs and DCEs who are watching these things go on with impunity and you are not firing them.
"I think Akufo Addo is just giving us a headache he must just go, he must resign", Lawyer Kpebu fumed.
He added that "yes we made a mistake to vote for him but we can still push him out".
Mr. Kpebu's diatribe at the President follows a recent expose by Joy News' Erastus Asare Donkor where forest reserves are being depleted by Akonta mining, a mining company belonging to Bernard Antwi Boasiako aka Chairman Wontumi, who is the Ashanti regional chairman of the NPP.
He is therefore calling on Ghanaians to rise up against the government in order to nip the galamsey in the bud and bring sanity to our environment.