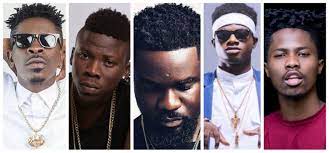 Branding expert, Prof. Emmanuel Osei Akyeampong, says majority of Ghanaian musicians have become local champions due to poor branding.
In a conversation with Doreen Avio on Prime Morning on Thursday, he explained that many of the artists have positioned themselves with a local appeal; failing to tap into the global niche.
"I'm sorry to say once again that most of our musicians have become what I'll call 'local champions. They cannot move beyond the shores of this country because they have branded themselves within the context of Ghana," he said.
Branding enables one to develop brand equity, become different from other artists, enhance sales and visibility, and also become a professional musician.
Prof. Akyeampong contends that musicians such as Sarkodie and other female artists have an appealing brand that sets them apart from the pack.
He said, "If you really know your worth and your brand, you'll not appear before any organizers and they'll ask you how much you'll charge. And you'll tell them that, all things being equal, whatever you give me, I'll take it," he added.
The Branding Expert also believes the ignorance of some artists' managers is a major contributory factor to the poor branding of most musicians.
According to him, the managers are fixated on maximising profit at the expense of investing in the branding of the artists.
"They're interested in raking in money without investing in the brand management of the musicians," he said.
Prof. Osei Akyeampong admonished emerging musicians to identify and focus on a unique brand rather than being associated with multiple identities.
Also on the show, Acting President of the Musician Union of Ghana (MUSIGA), Bessa Simons, encouraged upcoming musicians to intensify their branding, saying it helps in increasing finances.
He said, "If I'm not wearing my hat, you'll not recognize me. I can't even sell myself, but if I'm wearing my hat and I go out there, I get business just wearing a hat."
Meanwhile, Bessa Simons entreated all musicians to join MUSIGA to boost their brand through the guidelines.