Entertainment
News & Trending
Trending
I began hardcore prostitution at year 15 Hook up' girl reveals
I began hardcore prostitution at year 15 Hook up' girl reveals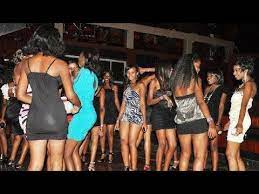 A Ghanaian prostitute who goes by the name Too Hot has revealed how she got into prostitution on the Day Show with Berla Mundi.
According to her, she was defiled by her class teacher in the primary. She said this started her journey into hardcore prostitution at 15 years.
"I was about 15 years when I went into this prostitution business. I lost my virginity to my class teacher in Primary school. I bled when he had sex with me. I was in class 4."
When Berla asked her, "So he raped you?" "No, I allowed him," Too Hot responded. So Berla urged her to tell how her class teacher defiled her.
"We used to run shifts in school. I was in 4B. Through friends, I had heard about sexual relations. So, I also tried until I got the teacher's attention, and he came to like me. He asked me to help him with petty chores in his bungalow. He told me he liked me and noticed me in class when I went to his house. I knew he liked me because I was very athletic, I played volleyball and netball in school, and he was our coach. Through that, he confessed his intentions, and I accepted. And he had sex with me," she recounted.
Too Hot disclosed that she never told anyone about it because her mother would have had the teacher arrested. She mentioned that the teacher was later transferred out of her school, and she lost contact with him.