Business
Top stories
Trending
Minority halts an attempt by Kwaku Kwarteng to amend $3bn BoG foreign reserves figure days after the $750m loan approval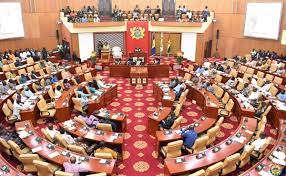 The Minority in Parliament has thwarted an attempt by the Chairman of the Finance Committee of Parliament, Mr. Kwaku Kwarteng to amend portions of the Finance Committee report that led to the approval of the $750 million loan on Wednesday, July 20, 2022.
According to the Committee report, Finance Minister Mr. Ken Ofori-Atta had told the committee that Ghana's Parliament had to approve the loan agreement urgently to save the country from grounding to a halt.
To convince the members of the house, the Ministry added that the Bank of Ghana (BoG) was already reeling from the brunt of the financial downturn.
Per the Committee's report, the Central Bank's foreign reserves had dwindled from $9 billion to about $3 billion by the close of June 2022.
But on Friday, July 22, 2022, the Chairman of the Committee, Mr. Kwaku Kwarteng sought to correct the $3 billion figure which formed the bases for the Minority side of the House to soften its stance against approval of the Loan Facility Agreement between the government of Ghana and the AfreximBank on July 20.
Mr. Kwarteng in his defense of the $3bn BoG foreign reserves figure described the incident as an "unfortunate mistake".
He told Parliament that Ghana's Gross International Reserves rather declined from $9.70 billion at the close of December 2021 to $7.68 billion at the close of June 2022.
He prayed that the Speaker acknowledges the amendment.
But this was met with a fierce response from the Minority side.
Minority Chief Whip, and MP Asawase constituency in the Ashanti Region, Alhaji Mohammed Muntaka Mubarak rebutted that this information was provided by the Finance Minister himself to the committee.
For this reason, he claims that the Minister lied to the Committee to sway the House into approving the loan agreement.
He was emphatic that "if the Finance Minister comes to the Committee and says things that are inaccurate, the BoG has every right to respond and say that 'no, I have heard that Parliament has been given this information which is not accurate."
"But to come back to this House and tell us will mean that we have to withdraw the approval because we approved it based on the facts," Minority Chief Whip explained further.
Meanwhile the Ranking Member on the Finance Committee, Dr. Cassiel Ato Forson also insisted that "a statement cannot amend the committee report."
However, the Deputy Majority Leader, Mr. Alexander Afenyo-Markin held a brief for the Finance Committee Chairman saying the correction should be admitted in the meantime while efforts are made to verify same.
"Let us look at the substance of his contention before us. And the substance is, these are facts that override and overreach the earlier submissions that he made and he has stated that it is regrettable," he told the House.
The House, in conclusion, agreed to shelve the argument until the Finance Minister comes to the House on Monday, July 25 to substantiate the new figures.
Source: Gbcghanaonline.com