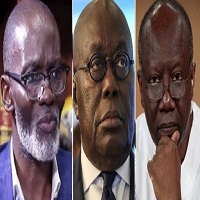 President Akufo-Addo's cousin Gabby Asare Otchere Darko has bemoaned the low revenue returns from the much-touted Electronic Transaction Levy (E-Levy).
In a series of tweets Monday morning, President Akufo-Addo's cousin revealed that the much-touted E-Levy that was expected to inject some capital into the economy has delivered only 10 percent of the targeted revenue.
According to him, E-levy was expected to rake in some 600 million cedis by now after its implementation but has so far delivered only 60 million cedis.
Ghana is swimming under a severe economic crisis as fuel and cost of food and other products have tripled since the beginning of the year.
The situation is said to have been compounded by the Russia-Ukraine war which has recently been highlighted by the Nana Ado-Bawumia-led New Patriotic Party (NPP) administration as the single major contributory factor to the astronomical fuel increments in Ghana, like other African countries, which has consequently affected the price of general commodities including food.
Mr. Otchere Darko added that he is not against an IMF programme in principle but against a programme that will impose crippling sanctions that will hit the poor Ghanaian hard.
Below are a couple of his tweet posts
"After 5 months of stalemate and bashing, the e-levy, after implementation, is delivering only 10% of estimated revenues; our revenues remain very low as compared to the rest of the world; debt levels dangerously high, cedi, like most currencies, struggling against the US dollar…"
"What options are open to the government? The question should rather be: what option if adopted, will re-inject investor confidence in our economy? Even if we find the $3-5 billion required, will that help? E-levy which was to have given us some 600m by now has done less than 60m."
Story: Inghananewstoday.com