General News
Trending
Government Statistician admonishes WASH sector players to accelerate interventions to end Open Defecation by 2030
Government Statistician admonishes WASH sector players to accelerate interventions to end Open Defecation by 2030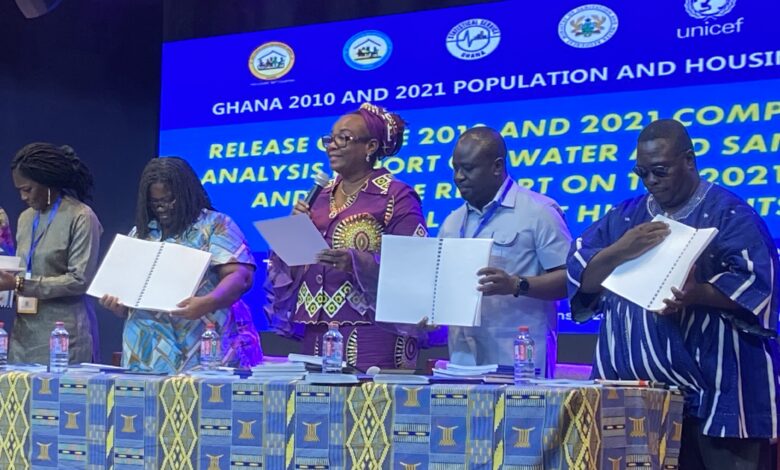 The Government Statistician, Prof. Samuel Kobina Anim has disclosed that Ghana's chances of ending Open Defecation (OD) by 2030 are minimal unless authorities accelerate interventions.
"As I indicated, the Ministry has developed different scenarios and this is the time we need to accelerate because, if over 11 year period we have reduced OD by just 1.6 percentage points and we have 7 years to 2030 then clearly, we are not likely to achieve the universal ending of open defecation," He said.
Prof. Annim made this statement during the launch of the 2010 and 2021 Comparative Analysis Report on Water and Sanitation report on the 2021 PHC General Report Highlights held in Accra.
According to the Government Statistician, there are a lot of districts that are lagging behind, and based on the mantra of leaving no one behind, there is a need to start targeting districts that have retrogressed and are below the national target.
Speaking to the media, the Government Statistician disclosed that the focus of their work was not on the levels of access to improve water or sanitation practices but rather, their focus has to do with the disaggregation that they see.
"Nationally we have seen some improvements in open defecation, but it is very minimal. The drop in margin is just 1.6 percentage points over the 11-year period.
However, the point we are hammering on is the desegregation that we see across the 261 administration district. So, while nationally we see that improvement of 1.6 percentage points, we have today put out 70 districts that over the 11-year period have retrogressed in terms of open defecation practices in this country.
Whilst in some other districts notably the Nandom District and some districts in the Upper West Region, we see improvement in excess of 50 percentage points over the 11-year period". He explained.
Prof. Annim, therefore, called on the Local Government, Decentralization, and Rural Development Minister to have a breakfast conversation among the District Chief Executives who have seen quite a tremendous improvement over the 11-year period and other districts that have retrogressed so that best practices can be learned across the districts to ensure that globally, Ghana achieved the target of ending open defecation by 2023.
He further called on the Ministry of Sanitation and Water Resources to go back to their own national target that they set for the periods between 2021 to 2030 saying, there is a need to revise those statistics specifically the target on access to basic water services.
The Ghana Statistical Service (GSS) report revealed that the proportion of households that use septic tanks increased by 9.6 percentage points between 2010 and 2021, whilst the use of KVIP/VIP also increased by 1.3 percentage points over the same period.
The increase according to the report, is reflected among both urban and rural households except for the use of KVIP/VIP that reduced in urban areas.
Again the proportion of households that use pit latrine reduced from 41.3 percent to 27.1 percent over the same period. This reduction also occurs among urban and rural households.
The report says, there is a substantial reduction in the number of households that use bucket/pan latrines from (1.6%) 40,678 in 2010 to (0.1%) 2,576 in 2021.
Furthermore, there is an increase in the proportion of households that use septic tanks (manholes) from 38.2 percent in 2010 to 45.1 percent in 2021, and similarly, the use of KVIP/VIP from 15.0 percent to 17.8 percent while households that use pit latrine reduced by 11.1 percentage points between 2010 and 2021 in Western Region.
Prof. Annim advised that the Ministry of Sanitation and Water Resources revised its targets. If the nation is to go by that progression and there are no changes, it will mean that there will be a challenge in achieving the 2023 target. More importantly, the disparity they find across the urban, and rural areas. We need to do a lot more targeting if we want to ensure that each and everyone gets universal access and equitable access to improve water. He added.
Reacting to the findings from the report, UNICEF WASH Specialist, Mrs. Loretta Roberts indicated that, even though there is a lot to be done to meet the 2023 deadline, the good news from the data is that the country has made massive strides since 2010.
"So for us, I think is an encouragement that we know what to do to ensure that we can meet the target with the right investments, especially within the Metropolitan, Municipal, and Districts Assemblies," she emphasized.
We should be able to see Ghana meet the SDG targets of eliminating open defecation, and increasing and ensuring that each household has access to WASH facilities for their use. Mrs. Roberts retorted.
"From the data presented today, one could clearly see that at the national level, it seems that there is a marginal reduction but the challenge is when you go down into details, particularly for the districts, you would see that some districts have done very well by reducing open defecation by more than 50 percent.
Most of these districts, which have achieved this feat started with social and behavior change, bolding the capacity of the private sector to be able to support households acquired durable sanitation facilities and then enforcement of by-laws". The UNICEF WASH Specialist noted,
By: Kwadwo BUABENG