General News
News & Trending
Trending
"Celebrations of WPFD would become an annual charade if state institutions do not commit themselves to changing trends"- GJA Prez
"Celebrations of WPFD would become an annual charade if state institutions do not commit themselves to changing trends"- GJA Prez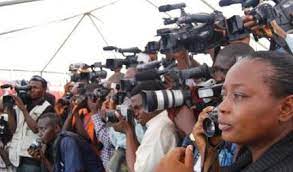 President of the Ghana Journalists Association (GJA), Mr. Albert Kwabena Dwumfour has called on state institutions to uphold and maintain the rights of Journalists.
According to him, the celebration of the World Press Freedom Day (WPFD) would become an annual charade if state institutions do not commit themselves to change the narrative and maintaining the rights of Journalists for once.
Mr. Dwumfour made the call when addressing the gathering at the commemoration ceremony of the 2023 World Press Freedom Day held at the International Press Center in Accra.
The global theme for 2023 WPFD is "Shaping a Future of Rights: Freedom of Expression as a Driver for all other human rights."
Notably, this theme coincides with the 30th anniversary of both World Press Freedom Day and the Vienna Conference's Declaration and Programme of Action for Human Rights.
However, the theme for this year's Ghana celebration which is not too distinct from the global theme is  "Freedom of Expression: A Driver for all human rights for Ghana's Development ."
The President of the Inky association was of the view that regarding any development ongoing in Ghana, the right to free expression should be of the utmost importance, thus all measures must be taken to ensure that it is not infringed upon in any way.
He reiterated the call by the GJA, along with the Media Foundation for West Africa (MFWA), Ghana Independent Broadcasters Association (GIBA), and Private Newspapers Association of Ghana (PRINPAG), on the government to amend certain provisions of the Electronic Communications Act and the Criminal Code, specifically Section 208 of the Criminal and Other Offences Act of 1960 (Act 29).
"As critical stakeholders in the media industry, we cannot remain unconcerned as these laws are used to arrest citizens and journalists and prefer criminal charges over civil remedies for press and speech offenses that are merely defamatory.
The arbitrary application of these laws only serves to instill fear in the general populace.
One of our colleagues, Noah Nartey Dameh of Radio Ada was recently detained for seven days on false publication charges due to these bad laws.
As the umbrella body of journalists in this country, Madam Chairperson, we will continue to ensure that any action or law that seeks to stifle free expression fails." Mr. Dwumfour hinted 
"To ensure that free speech is always protected, Mr. Chairman, it is essential that journalists, who are the vanguards of free speech, receive all the support they require to carry out their duties without hindrance or compromise. This is why, under my stewardship, the GJA has established the Journalists Support Fund (JSF)." The GJA president said.
According to him, the Fund will provide legal services to journalists whose rights have been violated while performing their duties. It will also assist in providing training and seminars on safety and security to our members to improve their safety and security.
Story: Kwadwo BUABENG