Business
News & Trending
Trending
Demo to hit Sunon Asogli Power Ghana Ltd…As TUC gives April 3 deadline to reinstate 3 dismissed local union leaders
Demo to hit Sunon Asogli Power Ghana Ltd…As TUC gives April 3 deadline to reinstate 3 dismissed local union leaders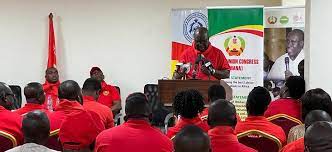 The Ghana Trades Union Congress (TUC) has issued a one-week ultimatum to Sunon Asogli Power (Ghana) Limited managers to reinstate three union leaders who were said to have been sacked for joining the union.
According to the leadership of TUC, failure on the part of managers of Sunon Asogli Power Ghana Ltd to take this action, will leave the union no option but to "advise themselves".
According to an insider report, other unionised workers under the Ghana Mineworkers' Union (GMWU) are being subjected to abuses by managers of Sunon Asogli Power Ghana ltd.
The attention of major stakeholders including the National Labour Commission (NLC) has been drawn to the issue but to no avail.
But TUC said all its affiliates will act in solidarity with the workers if no word is heard from major stakeholders by Monday, April 3.
The Secretary General of TUC Dr. Anthony Yaw Baah addressing the media at a press conference held in Accra gave the one-week ultimatum.
He reiterated "We are serving notice and notice is hereby served that if by Monday, April 3, 2023, the three local union leaders who have been dismissed are not reinstated and the various acts of intimidation and victimization by Sunon Asogli Power (Ghana) Ltd have not ceased, the Trades Union Congress (Ghana) and all its affiliate unions shall have no other option but to advise themselves,"
Clad in red, Dr. Baah, joined by some union leaders of Sunon Asogli, further cautioned management of the company to "refrain from any further acts of intimidation, fear and panic being unleashed on union members in the company and stop the abuse of the rights of their employees to belong to a union of their choice".
"Comrades, we cannot stand by these violations and abuse of workers' rights to go on, after 66 years of independence from colonial rule.
These workers have not committed any crime and have not broken any Company rules. They are simply being abused by their Chinese bosses and Ghanaian collaborators." He opined.
Dr. Baah stated emphatically that "no worker whether in the formal or the informal economy of Ghana will be allowed to suffer any form of injustice for choosing to join or form a trade union".
"Even the President of Ghana cannot stop any worker in Ghana from exercising his or her right to belong to a trade union." The Secretary General of TUC added.