Entertainment
News & Trending
Trending
When my wife calls me Lawrence…I know there is a problem – BullGod
When my wife calls me Lawrence...I know there is a problem - BullGod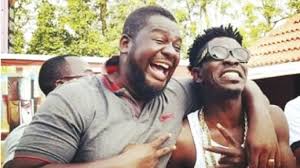 The Chief Executive Officer (CEO) of Bullhaus Entertainment, Lawrence Nana Asiamah Hanson, popularly known in Ghanaian showbiz circles as Bullgod, has hinted that only his wife calls him by his first name (Lawrence).
"Immediately I hear my wife calling out "Lawrence! Lawrence!! Lawrence!!! Then I know say problem dey." Bullgod told Kafui Dey one of the GTV Breakfast Host.
Speaking on the Scoop, a segment on the GTV current affairs program, the Breakfast Show, Nana Asiamah Hanson explained that he has known his wife for over 20 years, so I know when she is in a bad or good mood.
When the host of the show asked him how he (Bullgod) is able to handle the issue with his wife he answered in the affirmative saying "I have known her for over 20 so she is not a stranger to me and so when she raises an issue and I feel she is justified, I apologise and we move on but if I know I'm not I argue my case out."
As two different people live together there will be issues or problems but we have to find a way to address them and move. He said.
"I am in till death do us apart, so we all we dey. The problem, deeei we for live with it" the CEO of Bullhaus Entertainment, who doubles as entertainment pundit maintained.
Source: Kwadwo Buabeng