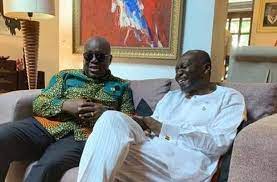 "This decision and action are unconscionable, and the Government cannot be allowed to use its might to impoverish Ghanaians. We are by this bulletin inviting eligible bondholders who seek to protect their interest to join the class action," the invitation read.
About 50 bondholders have signed up to be part of the lawsuit a few hours after the notice to join was shared on social media platforms, one of the Convener of the three groups which have come out so far, Mr. Kwadwo Agyapong made this known to the media.
However, the Finance Ministry has sought to discourage individual bondholders from suing the government, arguing that obtaining a judgment against the state in this matter would be difficult.
"The Republic of Ghana is a sovereign state. Consequently, it may be difficult for Eligible Holders of Eligible Bonds to obtain or realise awards against the Republic," Finance Minister Ken Ofori-Atta said in the 58-page amended debt exchange offer.
The Republic has submitted to the jurisdiction of the courts of Ghana and waived any immunity from the jurisdiction (including sovereign immunity) of such courts in connection with any action arising out of or based upon the Invitation to Exchange or any securities issued under the Invitation to Exchange brought by any holder of such securities," it added.
According to the Finance Ministry, individual investors have until January 16 to sign onto the debt exchange programme.
The government is offering 12 new bonds with zero interest until 2024 in exchange for existing ones as part of a debt restructuring needed to secure a $3 billion bailout from the International Monetary Fund (IMF).
But the programme is suffering from setbacks by local bondholders, compelling the government to exempt pension funds after threatening to embark on a strike.
Story: Kwadwo Buabeng