General News
News & Trending
Trending
Defending Akonta mining's illegal Mining activities, with all the concrete evidence abound most unfortunate – Convenor -Media Coalition against Illegal Mining jabs Akufo-Addo
Defending Akonta mining's illegal Mining activities, with all the concrete evidence abound most unfortunate – Convenor -Media Coalition against Illegal Mining jabs Akufo-Addo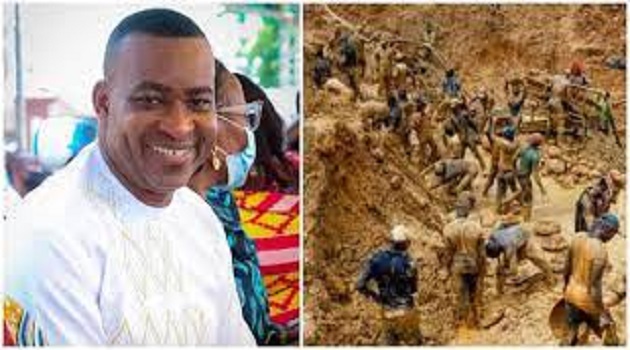 The Convenor of the Media Coalition against Illegal Mining, Dr. Kenneth Ashigbey has described a statement made by President Nana Addo Dankwa Akufo-Addo which sort to defend Akonta Mine over the firm's alleged engagements in illegal mining activities as most unfortunate.
President Akufo-Addo cleared the mining firm of any wrongdoing when addressing members of the National Union of Ghana Catholic Diocesan Priests Association at its 28th National and 16th Biennial Congress in the Eastern Regional capital, Koforidua.
"I want to assure you all that Akonta Mining is not engaged in any form of illegal mining anywhere in Ghana as we speak," the President stated emphatically.
Reacting to the President's statement in an interview, Dr. Ashigbey explained that Akonta Mining's alleged illegal mining is not up for contention.
"Some media works had been done and some reportage in the media revealed the clashes between workers of Akonta Mining which is owned by New Patriotic Party's Ashanti Region Chairman Mr. Bernard Antwi-Boasiako, and residents of the Samreboi community where the residents prevented the miners from mining in the Tano Nimiri Forest Reserve.
Also, the Minerals Commission which is the independent regulatory body responsible for issuing licenses also said that Akonta Mining is engaged in illegal activities and so it is worrying the president is saying Akonta Mining is not engaged in illegal mining as we speak." He pointed out.
Dr. Ashigbey continued by saying the president may be right when he says Akonta Mining is not engaged in illegal mining activities as we speak, it may be because maybe Akonta Mining has left the forest reserve but the question we must be asking is, was the firm not in the forest sometime last year?
According to the Convenor of the Media Coalition against Illegal Mining, it may be too early to play down the words of the president, and he will wait on the president to come out with contrary evidence to what he is currently speaking about.
"I will also give the president the benefit of the doubt that he, being the Commander-in-Chief, may have some evidence that we don't know about because we also have evidence to the contrary that the firm was in the forest reserve mining illegally sometime last year."
He however feared the president's comments may have a weight on the Office of the Special Prosecutor's investigations into the activities of the firm, but the Minister of Lands and Natural Resources, Samuel Abu Jinapor downplayed such fears.
Story: Inghananewstoday.com