General News
Health
Wash
Trending
A two days GWJN National Delegates Trainer of Trainees Workshop ends in Dodowa with a call on journalists to show interest in WASH issues
A two days GWJN National Delegates Trainer of Trainees Workshop ends in Dodowa with a call on journalists to show interest in WASH issues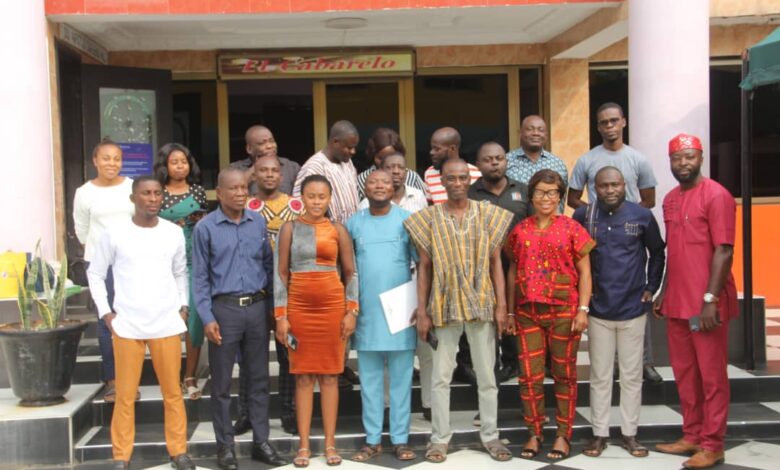 Two days of National Delegates Trainer of Trainees Workshop for some selected members of the Ghana WASH Journalists Network (GWJN) has ended at Dodowa in the Greater Accra Region.
The trainer workshop funded by Roddenberry Foundation's + 1 Global Fund was on the theme: "Building a Strong Media Coalition for Effective WASH Advocacy."
Taking participants through the topic: "Overview of the Water Sanitation and Hygiene (WASH) sector in Ghana, progress, gaps, and way forward, a seasoned WASH Policy Specialist, and Technical Lead for GWJN, Mr. Ibrahim Musah, called on the media practitioners to show more interest in issues of WASH.
According to him, even though much has been achieved in the area of the provision of water, the same cannot be said about sanitation and hygiene.
The WASH Policy Specialist, and Technical Lead for GWJN, was of the view that much more effort is needed from the WASH Journalists to highlight challenges impeding the progress of work in the sanitation and hygiene areas.
On January 1, 2016, the Sustainable Development Goals (SDGs) adopted by world leaders in September 2015 officially came into force. As a sequel to the previous Millennium Development Goals (MDGs), the SDGs set various ambitious goals in multiple sectors, to ensure sustainable and inclusive development globally.
One of the targets, indeed, target 6 of the SDGs spells out the responsibilities of countries for universal access to safe water and improved sanitation and hygiene facilities.
"Goal 6.2 states that by 2030, Ghana should achieve access to adequate and equitable sanitation and hygiene for all and end open defecation, paying special attention to the needs of women and girls and those in vulnerable situations"
There are several related targets under target six, all of which are expected to ensure sustainable access to safe water and improved sanitation.
Six years into the implementation of various programs to drive the country towards achieving the WASH sector SDG targets by 2030, Ghana seems to be lagging behind schedule in the area of sanitation.
Between July and October 2021, the Ghana Statistical Service (GSS) undertook the Population and Housing Census, and some of its findings provided clear data on access to safe water and improved sanitation in Ghana.
The 2021 PHC's report projected access to essential drinking water in Ghana at 87.7 percent, with 96.7 percent in urban areas and 74.4 percent in rural areas.
The Joint Monitoring Platform (JMP) in its Report (Progress on Household Drinking Water, Sanitation and Hygiene, 2000-2020), also put access to water in Ghana at 86 percent.
However, safely managed water was pegged at 41 percent in the same report. Urban water access was put at 96 percent while in rural areas water access is at 72 percent.
According to Mr. Musah, one area which needs regimental effort and dedication by WASH journalists is sanitation which Ghana is doing badly considering the 2021 PHC Report.
For instance, the 2021 PHC stated that a whopping 1,477,747 households in Ghana lack household toilets with households without toilets in the rural areas standing at 31.3 percent and 8.9 percent for urban areas bringing the national total to only 17.7 percent.
The PHC also put the national figure for open defecation at 17.7 percent with regional and district variations. The GSS concluded that the levels of open defecation dropped only marginally in two decades.
It is, for this reason, the WASH Policy Specialist, and Technical Lead for GWJN, urging the media to double its efforts by bringing out challenges and things that have become stumbling blocks to sanitation progress.
He again underscored the need for media practitioners especially WASH Journalists to start writing compelling changing stories on WASH Neglected Tropical Diseases (NTDs).
Mr. Musah was of grave concern that a huge number of neglected tropical diseases, such as dengue, lymphatic filariasis, trachoma, and leishmaniasis that affect human beings is not often reported by media practitioners in the country.
He maintained that WASH neglected tropical diseases are health areas that the journalists do not report on. It is time for media practitioners to seriously focus their reportage on neglected tropical diseases to accelerate and sustain progress on neglected tropical diseases.
The workshop which was on the theme: "Building a Strong Media Coalition for Effective WASH Advocacy," brought together over 25 journalists from the Western, Eastern, Ashanti, Volta, Upper East, Northern, and Bono Regions.
Source: Ingjhananewstoday/gbcghanaonline.com