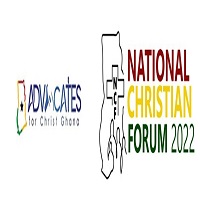 A three days annual National Christian Forum (NCF 2022) is currently underway in Accra.
The three-day forum is organised yearly by the Christian pressure movement – Advocates for Christ Ghana (A4CG) on the theme: "Ghana at 65, assessing the role of the 3 arms of Government and the Church in promoting good governance".
Speaking in an exclusive interview with gbcghanaonline, on the sideline of the forum, Chairman for A4CG, Mr. Edem Senanu stated emphatically that the high levels of reported corruption and waste of public resources, despite the fact that 71.3 percent (%) of Ghana's population are Christians raises serious questions.
"Clearly if 71.3% are Christians then the 70% of problems of the nation are Christian's problem" the Chairman for A4CG insisted.
He, therefore, called on Christians to have a regimental approach to doing things right.
"The challenge is that if people come to church on Sundays, dance to music and listen to the world of God and go back home doesn't mean they will do the right thing.
"It takes a regimental approach to say that I will do A or B to arrive at a certain result. So pastors should not only think about prosperity but shift the focus to building character and integrity of their members." He explained.
Building character and integrity of their members, Mr. Senanu said is the surest to address issues of corruption, bribing, and nepotism which have eaten into the Ghanaian moral fiber.
The NCF 2022 will look at what has worked. What has not worked? What can we do better moving forward? As a nation and especially as Christians.
This year's forum will take an in-depth look at the impact of the 3 arms of government – Legislature, Judiciary, and Executive on Ghana's development over 65 YEARS of nationhood.
Story: Inghananewstoday.com