Entertainment
General News
Trending
Nana Ama McBrown hit hard at critics…Say everyone needs body maintenance –  that she has enhanced hers
Nana Ama McBrown hit hard at critics...Say everyone needs body maintenance –  that she has enhanced hers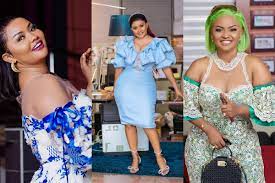 Actress Nana Ama McBrown says she does not see anything wrong with people enhancing their bodies.
According to her, just as car owners service their vehicles occasionally, people with the resources who are healthy and want to look good can also make the changes they want to their bodies.
Speaking at a seminar organized by Glitz Africa in Kumasi, Nana Ama McBrown said she is not shy to talk about liposuction and other body-enhancing processes.
"I am saying it, and I am not shy because if you are growing and you are comfortable and you have the resource and you are healthy, you still need maintenance.
"When you buy a car in the year 2000 and you use it till now, won't you spray it and change its bonnet?" she asked.
Her comment comes after she was accused of getting her body fixed.
Nana Ama returned to her TV  hosting job about a month ago looking different.
In pictures she shared to confirm her return on TV, Nana Ama McBrown had well-defined curves and butt which had some people suspecting she has worked on her body.